Congratulations to Georgana Gersabeck of Berkley, Michigan who proposed the name "Aurora" for Elise Winters' new colorway. When she saw Elise's bead strands she said, "I immediately felt I was looking at the Northern lights."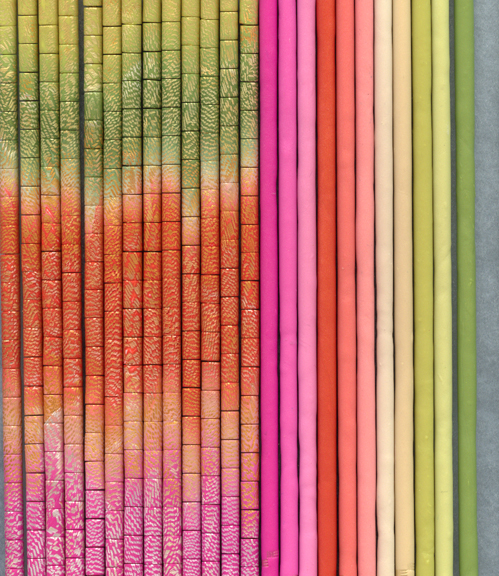 Elise sent this me this message on Sunday:
" Your deadline has passed and I checked in to gather the last minute submissions. There were so many great suggestions. And I was very impressed with the depth of thought that people put into their submissions.  I loved the Wikepedia research, the poetry and the humor (extra-orchid- ary).  It was hard to make a choice.  There were quite a few contenters – Fiesta & Calypso capture energy, Sorbet, mango, saffron, melonberry played to my love of luscious juicy FOOD!  
But the final choice was (…drum roll…)  Aurora.
When I submitted my list of finalists to Woody, he didn't skip a beat before declaring Aurora as his choice.  And then he made an indisputable case for it.  (Leave it to the poets)  He felt Aurora connected with nature and light – both of which are central influences in my work.  Also, the seduction of shifting light/color is an element for which I strive.
 So many thanks to Geo for finding the perfect solution to my naming problem.
I add my thanks to everyone who participated in the "Name That Colorway" Challenge. The names were all very evocative – I could visualize the beautiful inspirations behind each one. It was fun to see the many different ways you can interpret one set of colors.