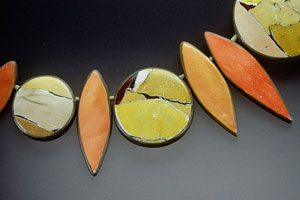 Over the last year  there has been a flurry of interest in my Watercolor technique with tutorials and videos by enthusiastic artists popping up in many places.
Remember playing the game of "Telephone" or "Whisper Down the Lane" and by the time the last person repeated the information it was all mixed up? That's what happened with the sharing of this simple technique that I first developed in 1998.  So when Florence Jakarta contacted me about an official tutorial I happily agreed to send her the basic steps I use. The result is up today on the French blog, Parole de Pate.
The technique of washing a thin layer of clay over white clay is a great way to "pop" the color. The addition of a black layer adds depth. There are lots of variations to play with: marbelize the colors, add inclusions, add translucent clay to the colors or as thin top layer if you want to sand after baking.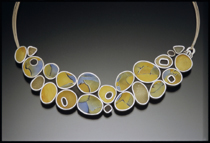 A few years ago Judy Kuskin took a workshop and transformed the technique into gorgeous pieces by combining it with her elegant sense of style and innovative use of silver wire.
"Confetti" is the name I gave to this variation of the technique used by Diane Heller in Brazil for her beautiful bowl .
Florence has agreed to translate her tutorial into English so you can play with coming up with your own variations of the basic technique.  I'll be doing tutorials on some of my variations down the road soon, but in the meantime have fun with it.  I'm looking forward to seeing where the exploration of the technique goes from here.