BIO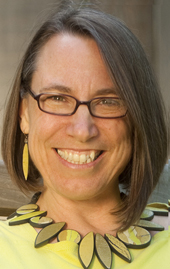 Maggie Maggio is a designer, artist and art educator who has studied and worked with color for over forty years. Her personal explorations into the science of light and pigments led to the creation of workshops for artists and designers who want to incorporate the latest research in color science into their creative practice.
Maggie retired as an architectural designer in 2015 and now spends her time guiding artists and designers in hands-on explorations of the multi-disciplinary world of color and advocating for the integration of art and science in color education programs world-wide.
As a member of the Board of Directors of the US  Inter-Society Color Council and co-chair of the International Color Association Study Group on Color Education, Maggie focuses on bridging between the art, science and industry of color and advancing color literacy for the 21st century.
Maggie is lives in Portland, Oregon - which she considers one of the most colorful cities in the world.
CV
Education
Master of Architecture, Syracuse University. Syracuse, New York. 1988.
Bachelor of Science, Drexel University.  Philadelphia, Pennsylvania. 1977.
Professional Affiliations
International Color Association (AIC)
Inter-Society Color Council (ISCC)
National Art Educators Association (NAEA)
American Craft Council (ACC)
International Polymer Clay Association (IPCA)
Publications
Color Inspirations, co-authored with Lindly Haunani, Random House, 2009.
Teaching History
Oregon Society of Artists
Arrowmont School of Arts and Crafts
Split Rock Summer Arts Program
Coupeville Arts Center
Torpedo Factory Arts Center
North Country Studio Workshops
International Polymer Clay Association Synergy Conferences
Ravensdale Conferences
Design with Heart Fiber Arts Conferences
Houston Quilt Festival
Polymer Clay Haven Conference
Quilts, Inc Embellishments Shows
Masters Invitational Polymer Clay Show
San Antonio Fiber Arts Guild
Columbia Stitchery Guild
Selected Work in Museums | Galleries | Shows
(in)Organic, Racine Art Museum, 2014
A Re-Visioning: New Works in Polymer, H.F. Johnson Gallery 2014
Animal Instinct, Metalsmith Exhibit in Print, 2014
The Body Adorned, SNAG Virtual Show, 2012
Mingei International Museum, San Diego, CA - Permanent Collection
Racine Art Museum, Racine, WI - Permanent Collection
Santa Fe Weaving Gallery, Santa Fe, NM
Facere Gallery, Seattle, WA
Whidney Moore Gallery, Portland, OR
Florida Craftsman Gallery, St. Petersburg, Florida
Boston Society of Artists and Craftsman, Boston, Massachusetts
Brookfield Arts Center, Danbury, Connecticut
Sandusky Art Museum, Sandusky, Ohio
Bellevue Art Museum, Bellevue, Washington
Selected Work in Publications
American Craft Magazine, Winter, 2014
Ornament Magazine, Summer 2013
The Polymer Arts Magazine, Fall, 2012
Polymer Clay Global Perspectives, Potter Craft-Random House, 2012
Ornament Magazine, Summer, 2011
Masters: Polymer Clay, Lark Press, 2011
Terra Nova: Polymer at the Crossroads, 2011
Polymer Clay Color Inspirations, WatsonGuptill-Random House, 2009
The Art of Polymer Clay , Watson Guptill, 2007
Polymer Clay Creative Traditons, Watson Guptill, 2006
400 Polymer Clay Designs, Lark Press 2004
Images on Clay II, Design Originals, 2002
Ornament Magazine, Spring 2000
Foundations in Polymer Clay Design, Barbara McGuire, Krause, 1999