Smashing Color Master Class
Exploring Optical Blending
September 23 -24, 2015
Bali, Indonesia
I'm thrilled to announce that I will be teaching a new color class for the first time as a pre-tour option to Barbara Alexander's Bali Fiber Tour (September 27th – October 10th.)
The two-day polymer workshop will be hosted by Warren and Robbin of e-Bu Jewelry (www.e-bu-jewelry.com) in their breathtaking villa. Jon Stuart Anderson (www.jonstuartanderson.com) may stop by for a visit and, as part of the textile tour, Jon always provides a polymer clay demo to Barb's guests.
Info about Barb's Fiber Arts Tour
I will not be joining the fiber tour but I've heard absolutely wonderful things about it from others who have gone. There is room for just two more women on the full 14 day tour and Barb would like to offer the spots to polymer artists who also love textiles!
Experience the wonderful centuries-old weaving and dyeing techniques that have made this Indonesian island famous. Tjap and tjanting batik, ikat weaving, indigo dyeing from the plant source and other natural dye techniques… You'll meet the artisans and get right in on the design process with hands-on workshops. Imagine 14 days in a textile and tropical paradise!  Once you arrive in Bali, this is a mostly all-inclusive tour.  
For more information about the textile tour go to www.balifibertours.com.
You can also email Barb at info@balifibertours.com for details or to reserve your place.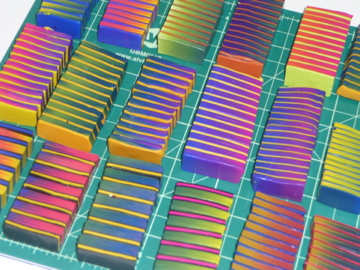 Info about the Pre-Tour Smashing Color Workshop
Optical Blending – colors mixing in the eye – can either steal the light from your design or enhance its luminosity.  This is especially true when reducing canes in polymer clay, choosing weft and warp colors in weaving, painting in the pointillist style, and deciding on plants in landscape design.
Over the course of the two days  you will learn about the three ways that colors mix together, experiment with simple tips and tricks to help you avoid disappointing surprises, practice controlling color shifts, and explore techniques that use optical blends to add sparkle to your work. It sounds like work but it will be FUN!
I'm excited to debut this new two-day Smashing Color workshop on my way to teach in Australia and New Zealand. A warm thank you to Warren and Robbin for offering to host the class and to Barb for coordinating the details.
Here's the Link to the full Master Class Description.
You can contact me for details about the pre-tour workshop at maggiemaggio@gmail.com.