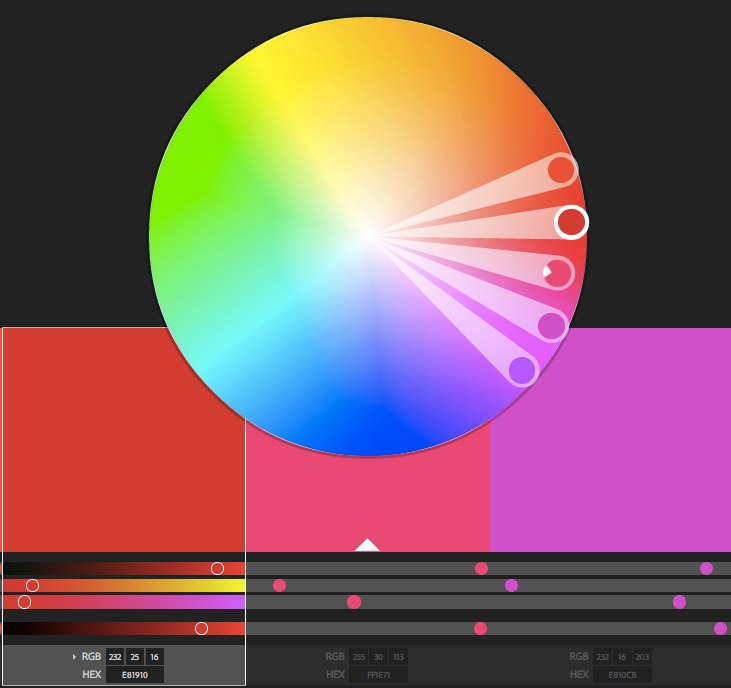 There's no replacement for hands-on experimenting in the studio but sometimes it's fun to go down some rabbit holes and discover the strange and wonderful ways people play with color.
I spent many hours on the internet searching for well designed, free color sites that are easy to use. There are dozens out there. I'll just share a few of my favorites. I hope they help bring more color into your life as we start the new year.
Note: As I jumped in and out of color sites, I discovered that many have ads.
I consider this a minor annoyance since I am good at ignoring them in return for the fun of exploring color.
Color Scheme Generators
This type of site lets you choose a starting color and then spin the wheel to find your hue harmony – monochromatic, analagous, complementary, triad, etc. I find them fascinating, and somewhat addictive, but not actually very useful since I like to come up with my own color schemes.
Identifying the Colors in Images
Some generators identify the colors in an image to use as inspiration. Most choose just five colors.  Some do so much more!
Here are the two sites that came closest to capturing the key colors in a test image:
Note: You can even use images of famous painting to identify colors for inspiration.
Finding a Color Scheme
No idea where to start? There are all sorts of color schemes free for the picking. You don't have to join these sites to just look!
Testing a Color Scheme
You've decided on the colors and want to try them out. These sites come in many variations include creating collages, and testing for color blindness.
That's just the tip of the iceberg for color scheming sites. Enjoy the links!