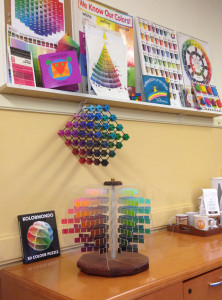 I just got back to Portland after teaching three workshops in North Carolina and now have a Munsell Color Tree in the teaching studio at VIA Artistica!
The east coast of NC is famous as the haunt of Blackbeard the pirate. The history is fascinating. Many believe his buried treasure is still out there somewhere along the Outer Banks.
I had no idea starting out on my last teaching trip of the year that I would find so many treasures of my own.
Here's the story.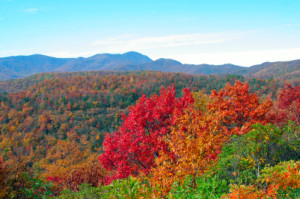 My first stop in NC was a two day Mark Making workshop with the Blue Ridge Polymer Clay Guild in Asheville. The trees in the west were at peak color. Stunning! While there, I stayed with Kay and Werner Bonitz in Hendersonville just outside the city.
Kay's beaded jewelry is featured in a number of shops and her polymer pieces can be seen at the elite wearable art gallery, Bellagio in Asheville. Werner's photography has been in a number of group and solo exhibitions.  Their beautiful home was filled with art.
The first night I was there, Werner and I discovered we share a love of teaching color. He is a retired textile engineer who worked for many of the major fashion houses over the course of his career. Part of his job was insuring that the colors of fabrics from different manufacturing plants all over the world matched each other. It was a huge job given the variety of materials and textures, the influence of lighting, and the strict controls needed in the dyeing process.
As the conversation veered into extremely geeky color stuff, Kay suggested that Werner bring up "that whirly-gig thing you have stored in the basement."
It was a Munsell Color Tree!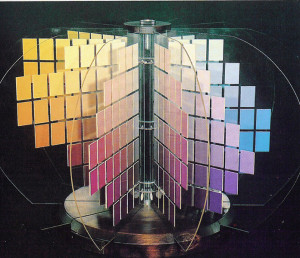 The Munsell Color Tree is the inspiration for the visualization exercise that I've used for years in my color workshops. 
The most important part of the exercise is understanding the location of the pure hues in relation to the central neutral axis. Rather than run the pure hues in a circle around the middle, Munsell showed them in relation to their different values from yellow at the top to blue purple at the bottom. 
Here are two of Munsell's early drawings along with my "tilted equator" drawing that show this concept of placing the hues in relation to value. 
I've coveted a Munsell Tree for years. I'm sure I was drooling. Given my groveling, it's no wonder that by the end of the night Werner offered to let me take the tree back to Portland to give it a new home at VIA Artistica. (To say I was thrilled is a huge understatement!) Along the way, I was able to use it in each of the three workshops going from west to east across the state. What a difference it makes to have a real life 3D model of color right there in the classroom! A gazillion thanks to Werner!!
After Asheville, I spent four days in High Point with Jenny and Michael McKitrick and a small group of polymer artists/guinea pigs. The tree had a place of honor on the shared table. We were testing my ideas for a color class focused on using millefiore to explore optical effects. I learned much more than I taught! Many thanks to my fellow color explorers, Jenny, Judy Carroll, Julie Eakes, Kay Bonitz, and Cheryl Stippich.
Then it was on to Winterville, NC just outside Greenville, home of Eastern Carolina University. It was there that I found out that the east coast of NC is famous as Blackbeard's hideaway and that the ECU teams are the Pirates.  There was purple and gold everywhere you looked!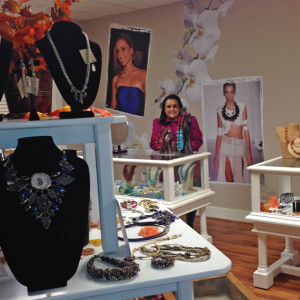 I was invited to Winterville by Ileana Rojas Bennett, CEO of Maleku Jewelry. Ileana is an award winning jeweler with work in over 40 stores in her home country of Costa Rica. Her work has been featured on runways and at the Oscars. The best thing is – she's also a warm, caring mentor. Once again I was spoiled by incomparable Southern hospitality.
I used the color tree in the class at Maleku Studio and again it was a big help in explaining where colors live in a 3D color space. You cannot imagine how grateful I am to have it.  The tree that was buried in a basement now has a place of honor in my teaching studio in Portland. It is indeed a treasure. But, corny as it sounds, there is an even bigger treasure – all the new friends I made from west, to middle, to east, in the gorgeous state of North Carolina!