One of the highlights of my short stay in London was visiting the Matisse show at Tate Modern on Easter Sunday. Now that I think about it, Easter was the perfect day to see the exhibit. Matisse almost died following colon surgery at the age of 71. He called the period after his near-death experience his "second life" and the cut-outs exuberantly reflect his joy in a new life.
I always thought that Matisse went to cut-outs because he could no longer paint – but the audio guide make it clear that's a common misconception.  Once he discovered he could draw directly into color with scissors he chose to give up painting to explore color in three-dimensions.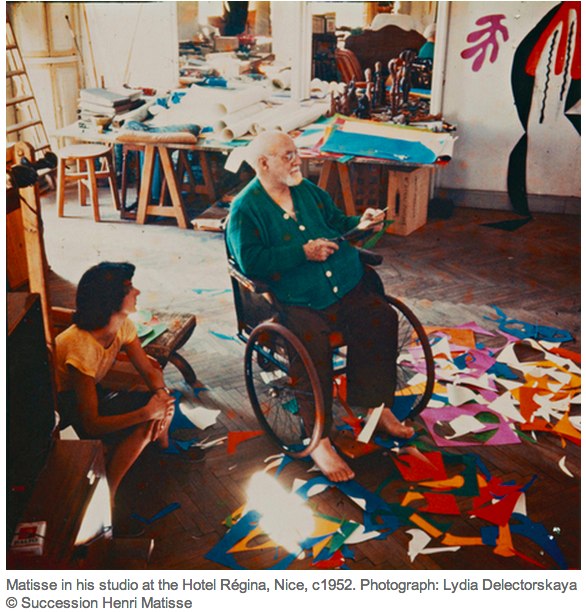 One of my favorite parts of the exhibit was a case in the corner of Room 6 –  missed by many people – with the leftover bits of paper lined up to show all the colors used by Matisse.
Gorgeous and vibrant colors even after sixty years, the colors are supersaturated with velvety, opaque gouache.
Nothing prepared me for the emotion of seeing room after room of the cut-outs in person. I've seen many of the 120 images in books over the years. There is no comparison. The originals are bursting with color.
To see the edges so clearly – some slightly peeling away – gave each image a depth that is missing in the printed versions shown in cases below the originals. In one of his first works – Two Dancers – you can even see the tacks he sometimes used to layer the cut pieces.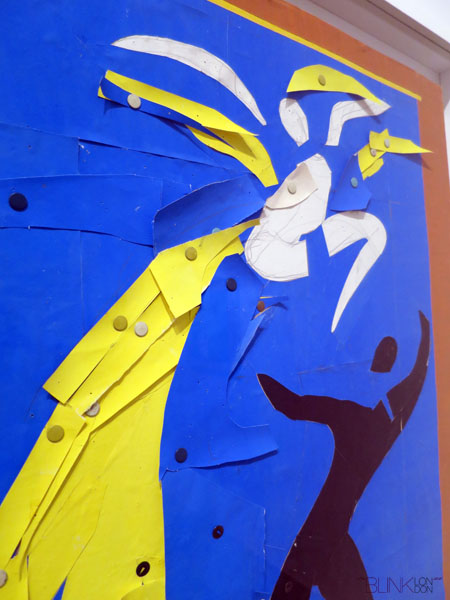 Another surprise was the size of some of the later pieces. Huge!
And then there were the glass  scraps from the stained glass windows.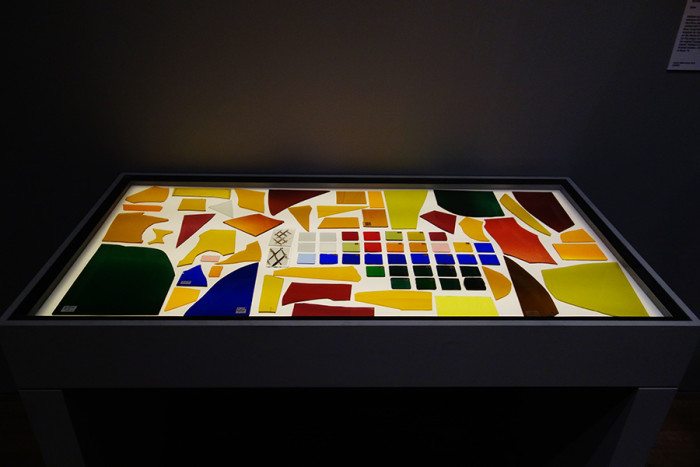 The second to the last piece in the exhibit is the full size cut-out cartoon for the last piece in the exhibit –  a stained glass window commissioned for the Time-Life building in NYC. You can't help but compare the colors of the cut-out paper with the colors of the glass. If the original full-size cut-outs are 100% more vibrant than the printed versions – then the stained glass is 500%. Color with light! Gorgeous!
If you can't get to London, the exhibit will travel to MOMA in the fall. Its an absolute must see!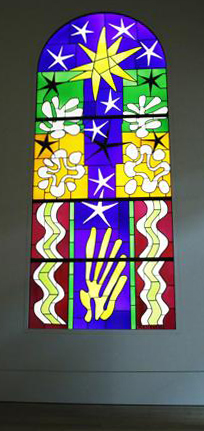 Links
Matisse at Tate Modern
Guardian Article: The Cut-outs Review
The Telegraph: Video