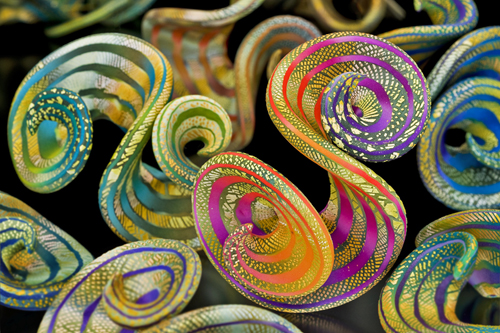 The Racine Art Museum's Terra Nova: Polymer Art at the Crossroads closed on Sunday. The first major museum exhibit of polymer art in the country, this show could never have happened without the vision and intrepid determination of polymer artist and advocate Elise Winters.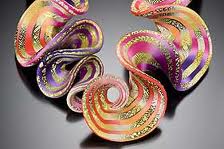 I first heard Elise's dream for a museum show as we were sitting around her living room during the Masters Invitational Polymer Clay Invitational Exhibit and Sale in 1997.
Held in Demarest, New Jersey, MIPCES was the first exhibit of master and emerging artists in this new medium.  The brand new polymer community happily converged on the Old Church Cultural Center to see the show, shop at the sale, and take the workshops. Envisioned and organized by Elise, MIPCES set the stage for Terra Nova fifteen years later.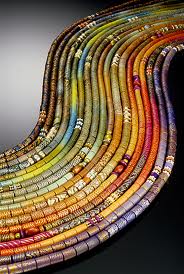 Over the years between MIPCES and Terra Nova, Elise recruited a core group of volunteers that included Rachel Carren, Nancy Travers and many, many others.
They started Polymer Art Archives to record the evolution of this new art form, organized a show for the National Polymer Clay Guild's 2001 conference at Bryn Mawr College, and established the Polymer Collection Project to place polymer art in museums around the country.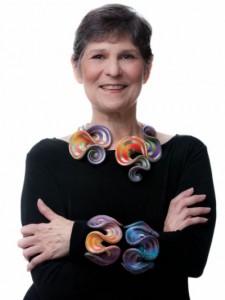 At the same time that all these organizational efforts were underway, Elise created a color filled body of work that took polymer to a new level.  Accepted into the top shows in the country, Elise traveled the show circuit and championed polymer clay as an artist's medium up and down the east coast.  Along the way she battled cancer. And then battled it again and again.
If you are not a polymer artist, you may not be familiar with Elise's story, her valor, and her beautiful work.
As gracious as she alway is, she will read this and then immediately give credit to everyone who helped the Terra Nova show grow from a dream into a reality.  But as polymer artist Jeff Dever said so well as the show was closing, "Elise . . . you were the catalyst that helped us dare to dream. Thank you!!! We are in your debt."
Elise Winters website.
Polymer Art Archive.