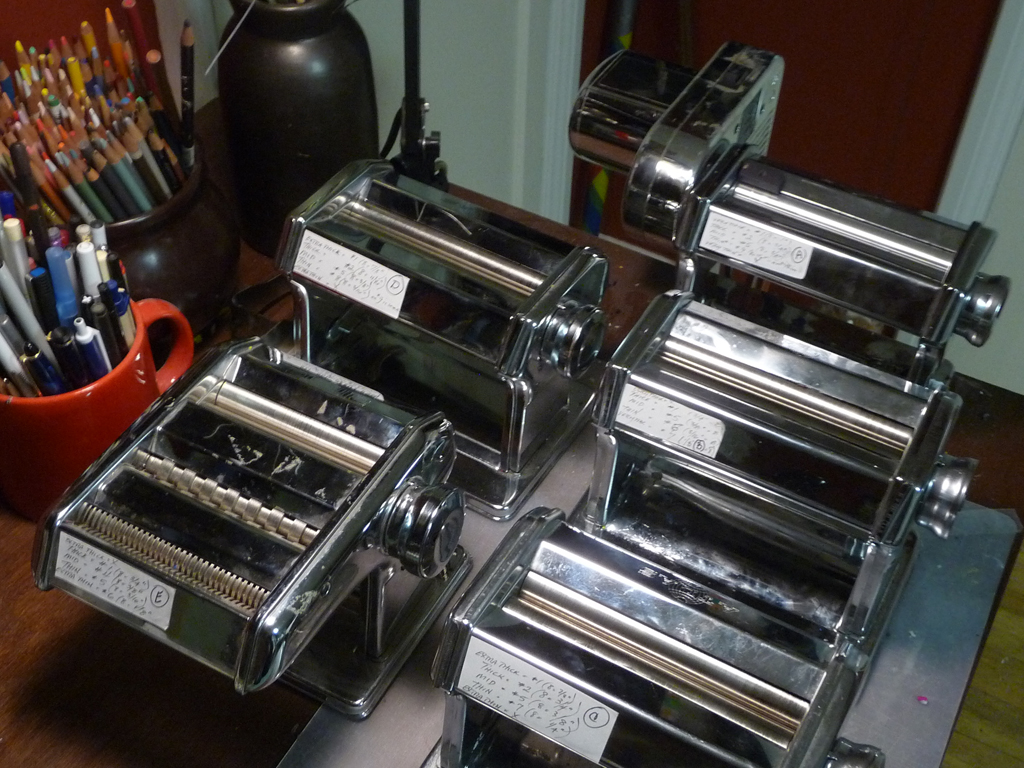 After struggling to write the instructions for a new project, I realized how crazy it is that we do not have standard settings on pasta machines. We can't just use the numbers because every pasta machine is different. Sometimes the thickest setting is #1, sometimes the thinnest setting is #1. Sometimes the thickest setting is over 1/8″ thick and sometimes it is closer to 1/16th". This causes all kinds of problems in projects where the thickness of the sheet is critical to the technique.
I have a simple solution. Let's standardize at least three settings  – call them "thick", "medium" and "thin"  – and label our pasta machines.
1. Write down the numbers on your pasta machine dial on a sheet of scrap paper. Some pasta machines have only 6 settings, some as many as 9 settings.
2. Sheet a small piece of clay at the thickest setting and then cut it into 8 pieces. Line the pieces up, measure the width, and make a note of the width. In the illustration below my note would read, #1 = 1″ (24 mm in metric)
Why eight sheets? We could try to measure the thickness of just one sheet but this is difficult to do with any accuracy especially at the thinnest settings. Eight sheets gives us something to measure easily.
3. Do the same thing for all of the settings.
4. Once you have all the widths documented, identify these five settings –
Very Thick        8 sheets = More than 7/8″ (22+ mm)
Thick                8 sheets = 3/4″ – 7/8″ (19-22 mm)
Medium          8 sheets = 3/8″ – 7/16″ (10-11 mm)
Thin                 8 sheets = 3/16″ – 7/32″ (5 – 6 mm)
Very Thin         8 sheets = 1/8″ or less (3 mm or less)
5. Label the pasta machine. I just use a file label.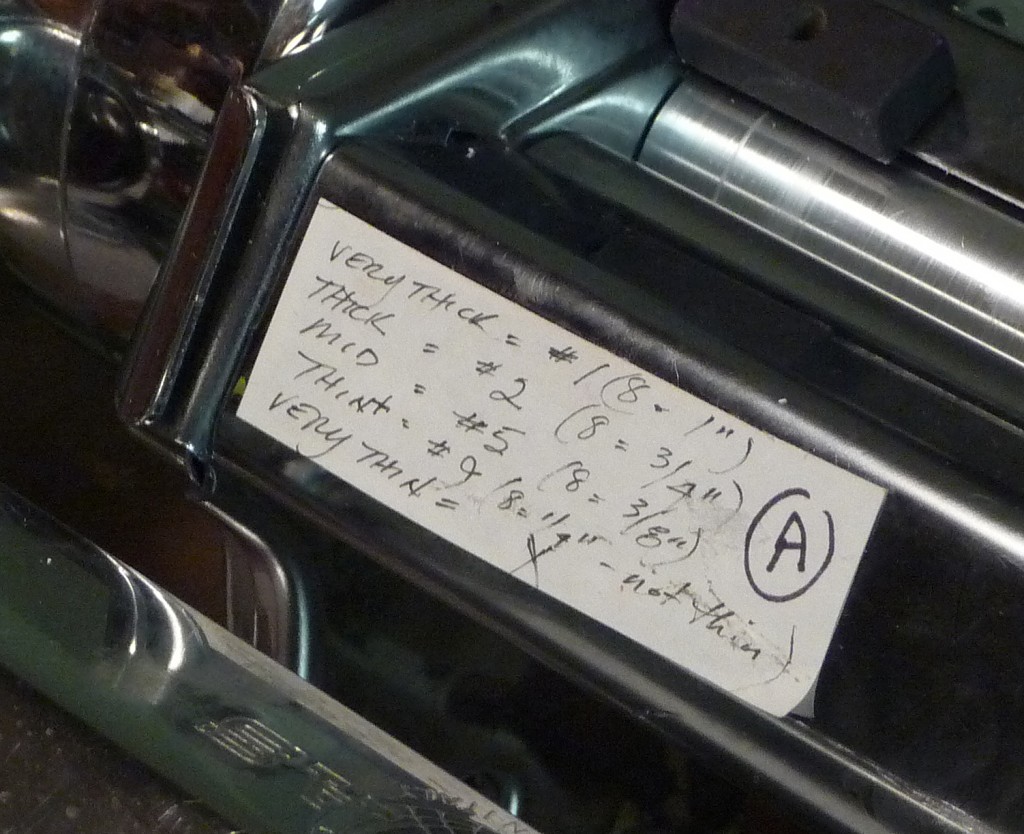 Not all pasta machines will have all five settings – this machine did not have a very thin setting and the thinnest setting was not even as thin as it should be. But in my experience, pretty much all pasta machines have settings that correspond to the middle three thicknesses.
I'd like to suggest that teachers start using just these three settings  – "thick", "medium", and "thin" –  and that all workshops start with students finding the numbers on their pasta machine that are closest to these settings.
You can of course use all your settings not just these three. I could, for example, say "Sheet the clay at your medium-thick setting."  You would know to sheet it between your thick and medium settings.
If you have more than one pasta machine put labels on all of them. Here's the chart for my four Atlas 150's. As you can see they are all different.

I like to identify my pasta machines with a letter so that I can easily make notes when I'm working on a project. A is my motorized pasta machine. B is my old Atlas that I only use for its very thin setting, C and D are my traveling pasta machines.
With all the new pasta machines on the market the variations in thickness are extreme. The Dream Machine has a #1 setting where 8 sheets = well over 1″. Compare that to one of my Atlas 150's where 8 sheets = 3/4″ and you can see how hard it is for artists spread out all over the world to get the same results. Standardizing the settings would make it much easier to teach/follow instructions and get consistent results no matter what pasta machine you are using!