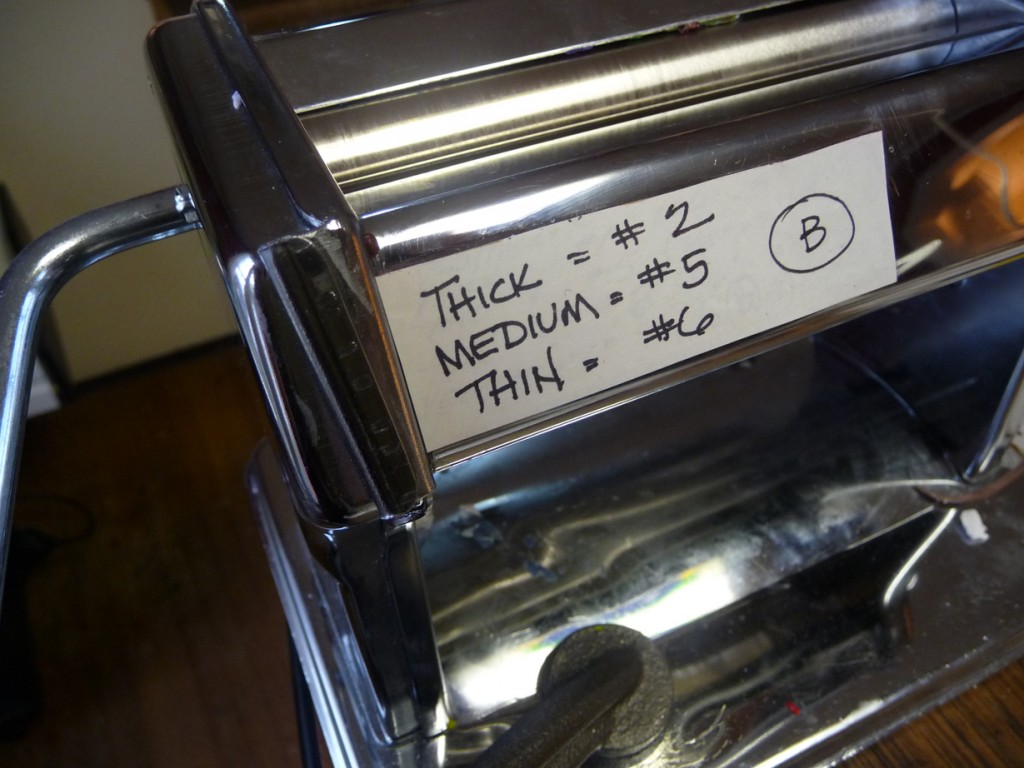 Addendum:  Sage Bray from The Polymer Arts Magazine and I are collaborating on a Pasta Machine Thickness Guide. To help us collect the data we need, measure your pasta machine settings using either the playing card method or the metric stacking method and send us the information by filling out the online survey.
 – – – – – – – – – – – – – – – – – – – – – – – – – – – – – –
There were lots of emails and comments flying back and forth last week about my suggestion for standardizing pasta machine settings. After weighing all the input, I decided to simplify my original idea and relabeled all my pasta machines with just THICK, MEDIUM and THIN settings based on the chart below.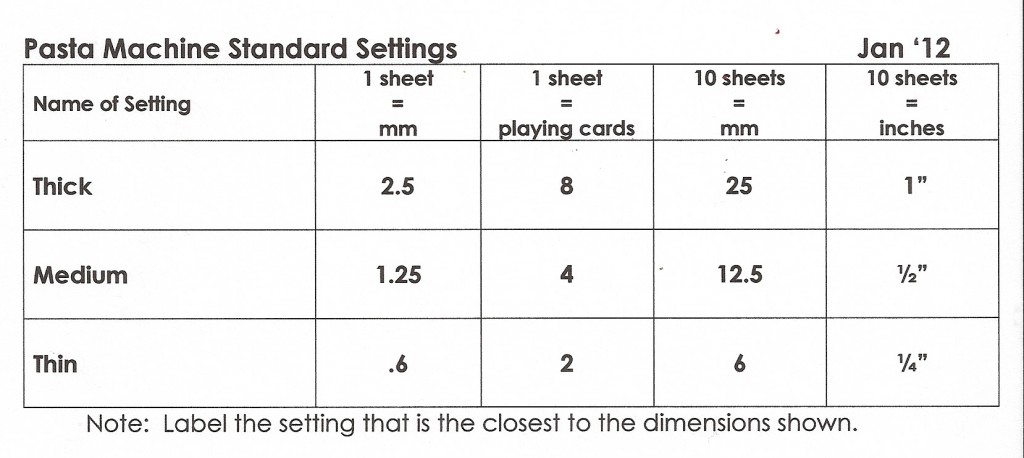 The actual thickness standards did not change from last week so if you labeled your pasta machines last week the settings for THICK, MEDIUM and THIN are the same. What did change is the method of measuring the thicknesses.
The new chart includes both standard thicknesses for single sheets and for stacks of ten sheets. Since the majority of the world uses the metric system, the standards are in millimeters and the number of sheets stacked up is changed from the eight I used last week to ten. (Ten works better with the metric system.)
A few folks asked about using playing cards so I included a column with the number of playing cards at each setting, Stacking playing cards is not very accurate but would be a way to get close if someone did not have a pasta machine or a ruler!
If all teachers recommended labeling of pasta machines according to these standards then we would soon get a feel for sheets of each thickness. We just need to agree to a few standards so that teachers can use them in books, tutorials and workshops and students can feel confident they will get the right results.
Pasta Machine Labeling Project

1. Write down the numbers on your pasta machine dial on a sheet of scrap paper. Some pasta machines have only 6 settings, some as many as 9 settings.
2. Sheet a small piece of clay at the thickest setting and then cut it into 10 pieces.
3. Stack up the ten sheets and press gently together.
4. Measure and make a note of the width. In the illustration below my note would read, #1 – Ten Sheets = 25 mm in metric (1″)
5. Do the same with each of your pasta machine settings.
6. Identify the THICK, MEDIUM and THIN settings based on the sheets that come the closest to the dimensions on the chart. You will probably be a little bit plus or minus on either side of the standard. That's OK. We are just trying to get in the ballpark.
7. Label your pasta machines. I use a file label.
_ _ _ _ _ _
Last week I included a Very Thick and Very Thin setting. I took these off the chart to make the point that we should only standardize settings that are available to everyone.
Once you find the three standard settings on your pasta machine(s), you can use all the other settings in your own work or in your studio. For example – very thick would be any setting that is thicker than your THICK setting. Very thin is any setting thinner than your THIN setting. Medium Thick would be a setting between MED and THICK etc.
I am planning to submit a post to Polymer Clay Daily about this idea and would love to get additional input before finalizing my proposal. Let me know what you think. Thanks!