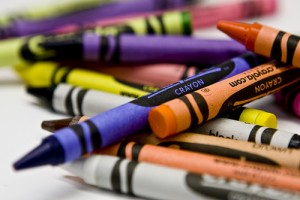 Treat yourself to a box of 64 crayons and clear some space in your studio.  Its time for the return of Saturday School!
Starting next Saturday, September 11th, I will be expanding on the exercises in Lindly's and my book, Color Inspirations.  Last year we covered Chapters 1 to 5.  This year we will start with some crayon warm-up exercises and then  move on to Chapter 6.
As a teaser for my upcoming "class assignments," here's an idea based on Chapter 2's Pivot Bead exercise. Follow the directions for making pivot beads but, instead of making beads, cut the striped snakes into longer pieces and make split rings for a monochromatic chain featuring the many variations of your pivot color.
Enjoy Cynthia Tinapple's new video tutorial of my technique for making split rings.  Here's a worksheet with templates and dimensions for three different sized split rings. Split Ring Worksheet3
I've made strong and flexible split rings with Premo and Kato clay. They should work with most clays. You don't have to add bendable clay though it certainly wouldn't hurt to try.
There are endless variations possible. Explore and send me your photos!