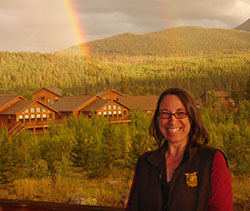 Lindly Haunani and I are happy to announce that our book, Polymer Clay Color Inspirations, is now available at your local bookstore and that Amazon is shipping them out to everyone who placed a pre-order.  Check out my big smile and the beautiful rainbow that appeared the same day the book was officially on the shelves.
Starting next Saturday, September 5th, I will be posting "Weekend Extras" to encourage you to go through each of the exercises in the book. We will start with tips for the very first exercise, "Testing Package Colors." I hope you will join me and send your questions and comments as we work through each of the exercises together.
Look for the weekend extras every Saturday morning and random posts scattered here and there. Now that the book is done, I am looking forward to getting back to blogging on a regular basis!