The Majolica style of painted ceramics was introduced to Italy in the 14th century from Moorish Spain by way of the island of Majorca. Think spanish tiles and you will probably have some idea of what inspired the Italian majolica artists.
In the middle of the fifteenth century, Luca della Robbia (1400-1482) developed the blue and white glazes that were used on the early terra cotta sculptures that came to be known simply as della Robbias. (Luca's nephew, Andrea, and Andrea's sons, Giovanni and Girolamo, continued the della Robbia tradition in the family's studio in Florence.)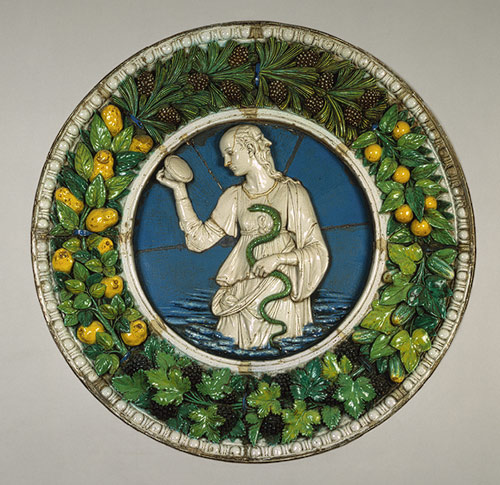 When I picture a della Robbia I imagine a wall piece designed as a circular weath with fruit and flowers surrounding a bas relief figure.

In my research, I was surprised to find that the della Robbias also made freestanding sculptural figures.
This is a Pieta by Giovanni della Robbia from 1510.
The rich colors came from stains and natural oxides applied over the white tin glazed earthenware. The painting was then covered with a clear layer of glaze and fired again to protect the colors.
By the late fifteenth century majolica colors included the white tin glaze and five natural materials used as paints: cobalt blue, antimony yellow, iron red, copper green and manganese purple.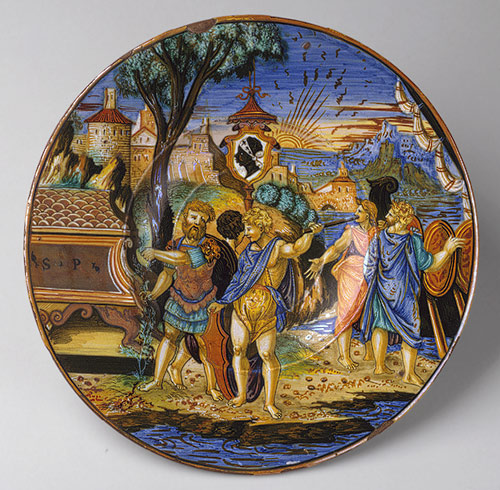 In the sixteenth century other colors were added including luster colors such as ruby red, pink, yellow and a reddish brown as you can see in this gorgeous plate by Francesco da Rovigo.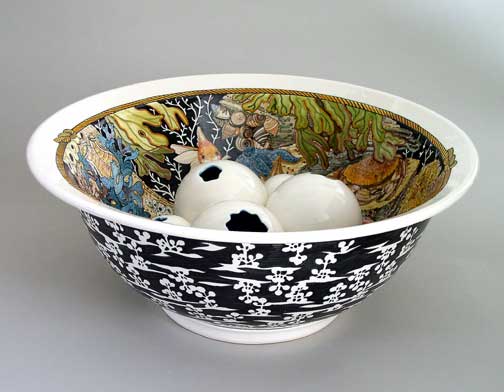 Contemporary artists are still exploring majolica. One of my favorites is Portland artist Connie Kiener.
I was introduced to Connie's work over twelve years ago when I saw the stunning 3'x3′ panel of lush flowers that she painted on tiles for a client's kitchen remodel.
Around that same time her work was featured in the November 1994 issue of American Craft. The article included many images of her intricately detailed paintings on large circular plates that I remember to this day.
(I just wish I could find that issue. It is probably in one of the stacks of magazines that I duct-taped together to use under the legs of my studio table to raise it to standing height.)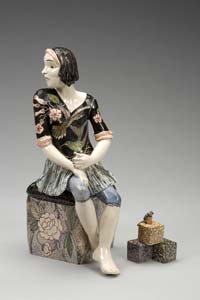 Connie's work has changed considerably since 1994 though she continues to push the art of majolica.Her recent pieces are much more three-dimensional and figural. Much like some of the early della Robbias.
Connie is represented in Portland by Laura Russo Gallery.
______________
The National Polymer Clay Guild Synergy Conference will be held in Baltimore during the same week as the American Craft Show. The conference dates are Feb 21 – 23, 2008.
Today is the first day you can register for the conference. If you register during the month of October you will be guaranteed your first choices of seminars and can add two free seminars to the six that come with the registration fee of $245 (for NPCG members.)
The Synergy Team worked hard to make this event as affordable as possible. Rooms in the conference hotel are $109 plus tax for two people and you can squeeze in a couple more for only $20 each a night. The rooms all have fully equipped kitchenettes so you can choose to bring your own food if you want to save even more.
If you are within driving distance of Baltimore, you can carpool with some friends and share transportation costs. If you are planning to fly check out Cheat Nuetral for a fun perspective on the issue of carbon offsets.
Hope to see you in Baltimore!