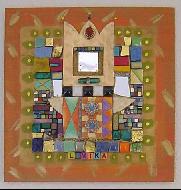 Laurie Mika's mixed media pieces are full of color, texture and imagery. Polymer and ceramic tiles, paint, beads, jewelry and more combine to make beautiful mosaic icons, tables, chairs and boxes.
I am amazed at how many pieces she gets done and that her confident use of color shows up in every piece. In one of our recent emails she told me part of her color story.
"Ironically," she said, "I am also kind of a color freak. After I graduated from high school and was thinking about college, I thought about going into art restoration because I loved color matching."
"My mom had a huge DeSimone (ceramic artist from Italy) plate that broke and my brother glued it back together. I had the joy of painting it to match exactly . . . and there were about a million colors in the design."
"But when it was done, you couldn't tell it was broken! All these many (many, many) years later, I am still infatuated with color, which is why I like to paint on polymer clay!"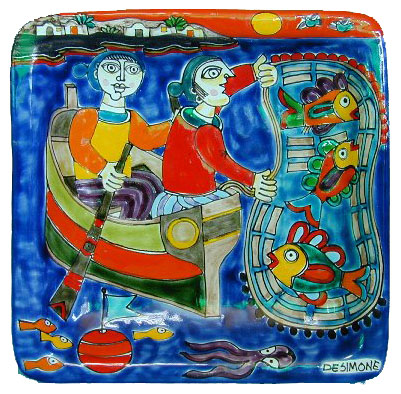 The DeSimone plate that Laurie painted was 24″ – that is huge! This is not the plate, but you probably recognize the stylized graphics as influenced by Pablo Picasso.
Giovanni De Simone was an aristocratic majolica artist who studied under Picasso and painted plate after plate with scenes from Sicilian life. Each piece is one-of-a-kind, hand painted by the artist. His three daughters continued the Ceramica Di Simone studio tradition after his death.
Laurie's work does not seem at all connected to Majolica. But Laurie's story took me back to my aunt's house in Philly, filled with gorgeous ceramics from Italy, Spain and Mexico all painted in bright, folk art colors.

That made me remember just how much I love both the traditional Italian Majolica and the work of contemporary ceramics artist using majolica painting and glazing techniques.
In the next few blogs I'll share some of my favorites.
Laurie Mika's book, Mixed Media Mosaics, was recently published by North Light Books.