Color theory is not reality. It is a collection of concepts that explain the complexity of color in a very abstract way. Traditional color theory uses the same key concepts over and over because they are elegantly simple – not because they are always right. Traditional Color Wheel.
Primary Colors
The first of these key concepts is the theory of primary colors. Primary colors are defined as colors that cannot be mixed from any other colors. The reality is that there is no such thing as a pure primary but it is such a useful concept that it is usually taught at the beginning of most color classes.
I will eventually smash all of this but its important to understand the basics. In the last 300 years or so scientists, artists and colorists have come up with dozens of color systems to define which colors come first (primaries), which come second (secondaries) and which are in between (intermediaries).
Some say there are only two primaries – yellow and blue or even black and white. Some say there are four – red, yellow, green, and blue. But most often there are three primaries.
Primary Systems
There are two primary systems that you should be familiar with: RGB for light and CMY for pigment. The science behind these systems is intimidating to me. The important thing is knowing that these two systems are reciprocal or opposite of each other.
Light/Additive: Red, Green, Blue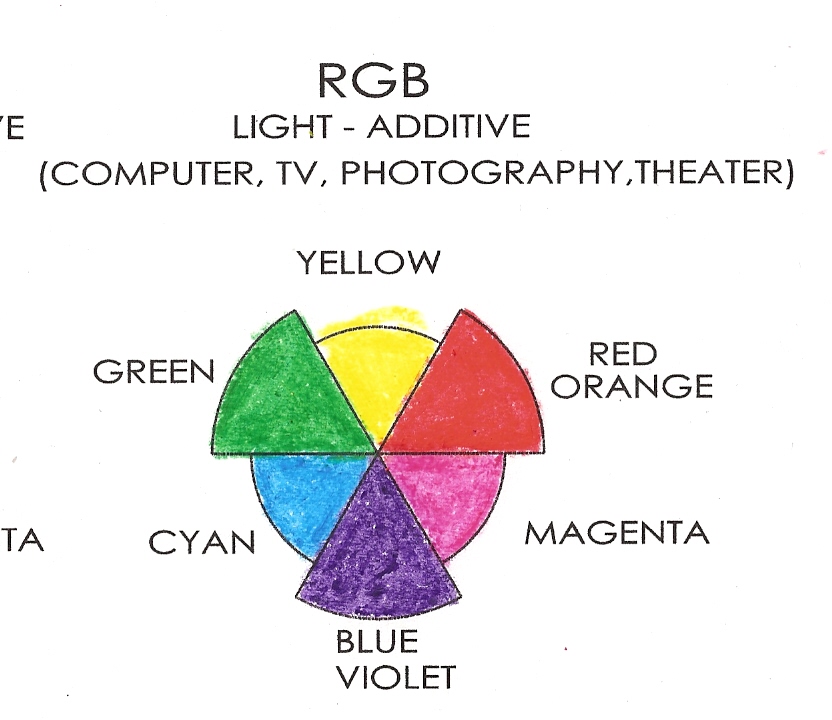 The three primaries in light, Red,Green,Blue (RGB)combine to make the three light secondaries, Cyan, Magenta, Yellow. RED (red-orange)+ GREEN = YELLOW GREEN + BLUE (blue-violet) = CYAN BLUE + RED = MAGENTA
Notice that the secondaries are lighter than the primaries. That's because when RBG primaries are combined they add light to the color- hence the additive system.
Theory says all three primaries together will make white light. The RGB system is used in computers, TV, photography, neon art, and theater lighting.
Exercise #1
If you are not already familiar with the RGB system, it is easy to learn. You don't need any fancy programs. Just draw a box in a Word document and fill it with a color using the custom color option. Type in the RGB numbers. Copy the box and change the fill color.
Note the new numbers. If you have never used RGB then the mixing will be counter-intuitive at first. Once you get the hang of it you can predict what the RGB numbers will be. Even more fun is guessing what blends will look like. There are lots of ways to play with color this way on the web.
Pigment/Subtractive: Cyan, Magenta, Yellow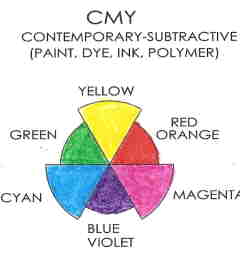 (Traditional = Red, Yellow, Blue) The three primaries in pigment, Cyan, Magenta,Yellow (CMY), combine to make the three pigment secondaries – Red, Green and Blue. CYAN + MAGENTA = BLUE (blue-violet) MAGENTA + YELLOW = RED (red-orange) YELLOW + CYAN = GREEN Notice that the secondaries are darker than the primaries.
That's because when the primaries are combined they subtract light – hence the subtractive system. Theory says all three primaries will make black. The reality is they make mud.
Printers add Black (k) to the CMY system for a number of reasons so this system is often referred to as the "smike" system for CMYk. The CMY system is used in paints, dyes, inks and polymer clay.
Red, Yellow, Blue
What happened to the traditional Red, Yellow, Blue system? There are many color ordering systems that still use the RYB primaries. The Munsell system is the most famous. Oil and acrylic paints are labeled with the ten hue families of the Munsell code. And what about the Red of the RGB system?
Isn't red one of the primaries of light? In reality the red of the RGB system is more like a red-orange or scarlet. In my classes, I call the Red crayon "old red" and the Magenta crayon – "new red". Old red is a color that comes from the mixture of Yellow and Magenta in pigments and from Red-Orange and Blue-Violet in light. If it can be mixed, it is not a primary.
Exercise #2
I colored the top part of Smashing Color Handout #1 using my Crayola crayons. Print out a copy and color the bottom part using your crayons. (The crayon names are used to label the blank color wheels.)
Notice that the Red crayon does not get used on either the CMY or RGB color wheels. Compare the colors on your computer screen with the printed colors on the handout. Compare the printed and computer colors with the colored in version. I know how hard it is to make a shift to CMY.
I still think in terms of ROYGBV and don't really like the colors I get using the CMY system. So I make modifications. But it really helps to re-imagine primary red as a Magenta Red. Once I learned that Red is not a primary but a mixture with yellow in it, color mixing became much easier. We will play with mixing reds from magentas and yellows when we start working with polymer clay in January.
Next Week: Inside the Color Wheel and Double Primaries
Wednesday: Materials List for Polymer Exercises