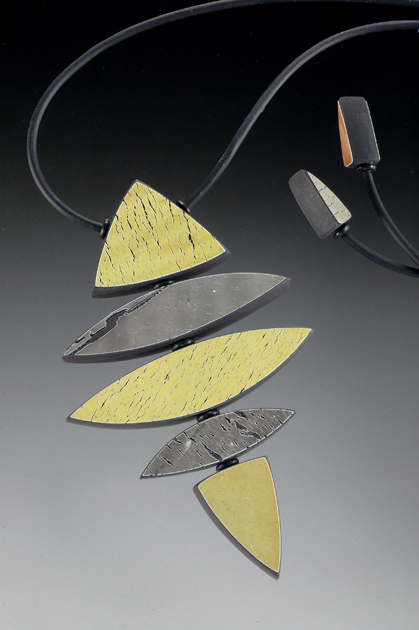 Fishtail Pendant: Designing with Reversible Beads
Fishtail Pendant:
Designing with Reversible Beads
Polymer Workshop
Project: Fishtail Pendant.
Level: Basic polymer clay experience required.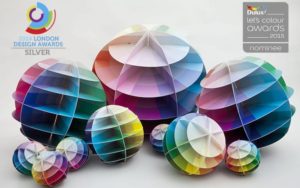 Travel the world of color while making a collection of simple flat beads and color coordinated, reversible pendants using Maggie'sSmashing Color Mixing Map and signature ColorWash technique.
This one-day workshop  introduces you to the world of KOLORMONDO -the Swedish color globe that makes understanding color easy and fun.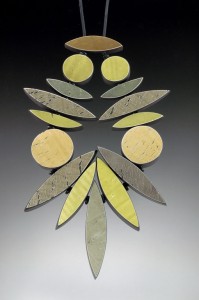 A good part of the day will be spent auditioning your colors by making sampler beads and testing variations in the technique to find just the right undertones and color combinations for you.
We will refer to your test beads to refine the colors of your personal palette before choosing a ColorScheme to use for your collection of  flat beads.
The real fun begins when you cut out the pieces, flip them over, and mix and match them for a full collection of solid color beads!
Once they are all cured, you can select your favorite pieces to finish and string into a beautiful Fishtail Pendant. Take the rest of your beads home to finish and use to create color washed jewelry such as a simple single bead pendant or complex Circles and Leaves Necklace.
Kit Fee : $10 kit fee includes handouts and group supplies.
Materials to Bring: Pasta machine, work surface, pin tool and blade.  If possible, the polymer will be donated. If not, polymer will be ordered for the class and $20 will be added to the kit fee.
Class Length: One Day.  Seven hours of instruction.
Instructor Fee: $100/student plus travel and lodging. Home stay is fine.  Note that total cost per student is dependent on site expenses and is determined by the hosting organization.
Contact Maggie for group/guild pricing.
Class Size: Minimum – 8 students. Maximum – 24 students.
Classroom Requirements: Demo table and chair. Dedicated convection ovens (one oven/8 students), whiteboard or flip chart with markers.  Additional chair for each student at demo table if possible.