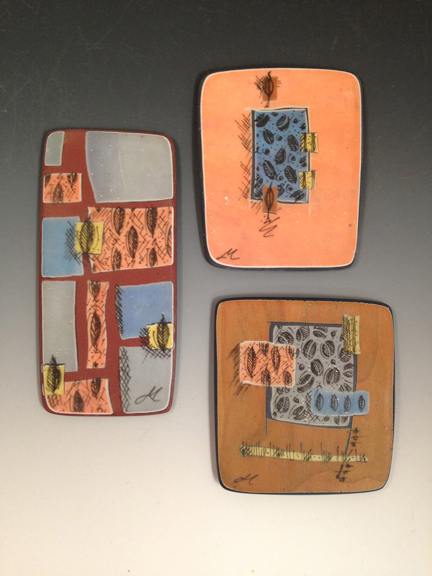 The Nature of Mark Making: ColorWash Brooches
The Nature of Mark Making:
ColorWash Brooches
Polymer Workshop
Project:  ColorWash Brooch
Level: Basic polymer clay experience required. Contact Maggie if you have questions.
When I first started playing with the ColorWash technique, I sometimes ended up with large areas of color that felt much too bare. What did I do? I doodled away the empty spaces. Dots, lines, and patterns filled the voids and transformed a basic color-washed piece into unique and poetic jewelry.
This one-day workshop combines the basics of Smashing Color with the ColorWash technique and an intro to the nature of mark making.
In the morning you will  mix a natural palette of gorgeous earth colors using Maggie's Mixing Map.
After an intro to ColorWashing, you will make a few swatches to test your colors.
While curing the swatches, Maggie will present a short lesson on the history of pattern design and demonstrate a variety of mark making techniques. The rest of the day will be spent developing your personal doodling style using pen and paper before selecting a few practice pieces to embellish with your own signature marks.
You will get the chance to take some time to customize both your colors and your mark making and then create a collage brooch.
Demo: You will learn how to protect your drawings, how to finish the back and edges of the brooch, and how to attach a pin back to your brooch.

Kit Fee : $10 kit fee includes handouts and group supplies.
Materials to Bring: Pasta machine, work surface, pin tool and blade.  If possible, the polymer will be donated. If not, polymer will be ordered for the class and $20 will be added to the kit fee.
Class Length: One Day.  Seven hours of instruction.
Instructor Fee: $100/student plus travel and lodging. Home stay is fine.  Note that total cost per student is dependent on site expenses and is determined by the hosting organization.
Contact Maggie for group/guild pricing.
Class Size: Minimum – 8 students. Maximum – 24 students.
Classroom Requirements: Demo table and chair. Dedicated convection ovens (one oven/8 students), whiteboard or flip chart with markers.  Additional chair for each student at demo table if possible.