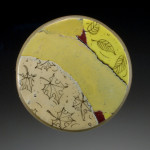 In August I will be heading home to Delaware, Ohio to celebrate my mom, dad and brother's birthdays AND then stay in Ohio to teach a pre-retreat workshop at this years' International Polymer Clay Retreat.
This will be my first time attending the IPCA Retreat. I know its going to be a great opportunity to get together with polymer enthusiasts from all over the country – and the world.  I will be a commuter at the retreat.  The Embassy Suites in Dublin, Ohio is only 30 minutes from Delaware so I'll get to stay with my parents – which will make them very happy!  I am so thrilled to be able to stay with them for a longer than normal visit.
My one day class – The Nature of Mark-Making: Instinctive Doodling on Polymer Clay  – is on Tuesday, August 19th. The other pre-retreat teachers are Donna Greenberg,  Randee Ketzel, Lisa Pavelka, Lindly Haunani, and Guest Artist, Helen Breil. The IPCA will be opening up registration in the next several weeks, so stay tuned for future updates.