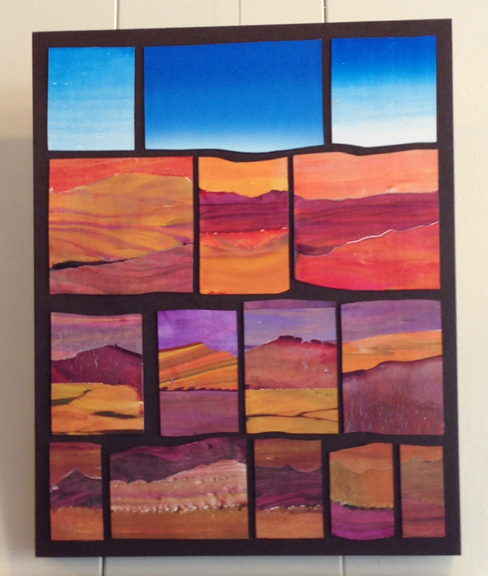 My local, independently owned, art supply store, Muse Art and Design, is sponsoring a fundraiser this Wednesday evening to provide art materials for the nonprofit organization, Schoolhouse Supplies.

"Schoolhouse Supplies is an award-winning nonprofit that supports public education in Portland by giving students and teachers free classroom supplies. We operate Oregon's only volunteer-run Free Store for Teachers, which is stocked with supplies donated by the community, the Tools for School backpack giveaway, and Schoolhouse Supplies Online programs."
Over thirty Portland artists participated in Muse Art's "An Artist A Day" program during the month of April to support the fundraising effort. Working in the front window of the store, each artist spent their day creating a 16″ x 20″ piece of art for the auction.  Half of the proceeds will go to the artists and half to Muse Art to buy art supplies at wholesale for donation to Schoolhouse Supplies.
I was slotted on the last day, April 30th, and made a landscape piece that was inspired by the purples and oranges of a New Mexico dawn.  It was quite a challenge since the sun was coming in the window and heating up the clay which made it difficult to keep the thin sheets from tearing as they came out of the pasta machine.  
My original intention was to make one large color-washed landscape but because the clay was so hard to handle I ended up making a collection of smaller landscapes and collaging them into a mosaic of "postcards." Its now hanging in the store along with all the other art works that will be auctioned off on Wednesday night.
If you would like to support the auction and help provide much appreciated art materials to teachers for use in their classrooms, you can call Muse Art to place a bid up until 4:00 p.m. Pacific Daylight Time tomorrow – Wednesday, May 23rd. You can also bid in person up to 8:30 p.m. on Wednesday night at the fundraising party in the store at  SE 4st and Hawthorne. All bidding starts at $75.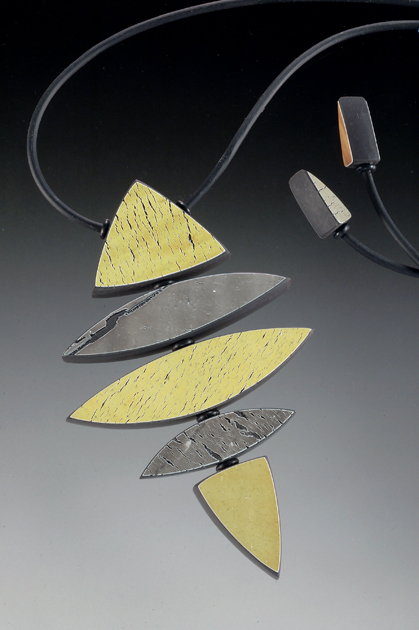 I know its not easy to bid by phone, so for anyone outside the Portland area who calls in and ends up placing the winning bid on any of the artwork,  I will take care of the shipping costs and, as a thank you gift for supporting Schoolhouse Supplies, I will also send you a Fishtail Pendant similar to the one on the left.
You can see all the artists' works on the Auction Page and make telephone bids today (Tuesday) until 5:00 p.m. PDT and tomorrow until 4:00 PDT. I encourage you to look at the Auction Page. There are many wonderful pieces and not too many bids!
Bids: Muse Art and Design  503.231.8704
Auction Page
Muse Art and Design
Schoolhouse Supplies
An Artist a Day:  blog posts documenting each artist of the day