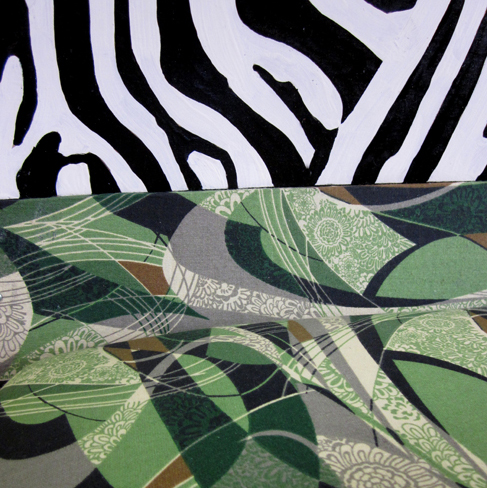 Often  zooming in on an image can inspire new design and color combination ideas. Today I'm zooming in on chairs.
These are three very different details from chairs made by artists for the Chair Affair fundraiser – the annual auction for the Portland Community Warehouse.
Many Portland artists contribute pieces to the auction. Some make the chairs from scratch, some use recycled chairs. My friend and neighbor, pastel artist Greg Danielson started out with an old chair and the idea of making the legs of a chair be something else. Since many historic chair designs have legs inspired by animals he thought he would do a modernized version.
His first choice of animal was a giraffe, but the proportions caused a problem. How tall would the back need to be to mimic the long neck of the giraffe? His second choice was dogs. Multiple animals seemed more appropriate. While looking at photographs of African animals he saw an image of two zebras who seemed to be embracing neck to neck. Danielson decided that would be perfect.
He started out wanting the zebras to be 3D with the heads curving around to the front but that ended up tipping the chair over. So he went with a 2D design.  He calls his final version a "wingback" chair and says he was painting stripes for a week.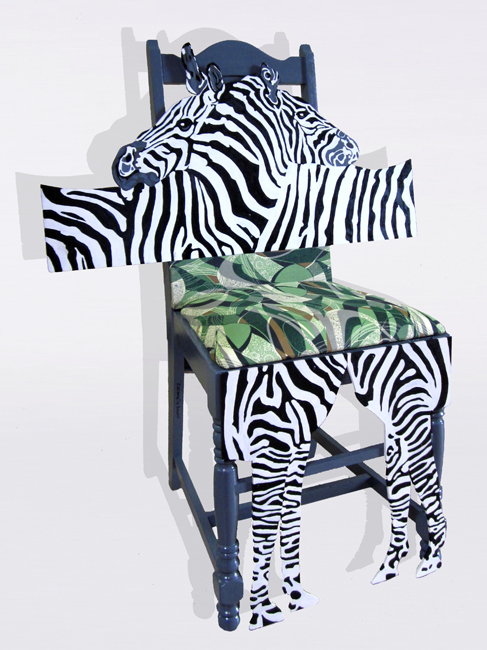 The auction raises money to provide basic furnishings to over 5000 people in need every year.  You can see the full size chairs and other auction items in the gallery for the 2012 Portland Chair Affair.
Portland Community Warehouse 2012 Tables, Chairs and Artists