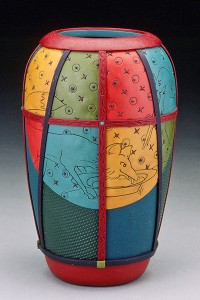 My brain is still spinning from the opening of the Racine Art Museum's Terra Nova: Polymer Art at the Crossroads exhibit and from the weekend symposium. I'll need at least a month to process all the images, ideas, conversations, challenges and inspirations.
The opening was wonderfully overwhelming. There are more than 200 pieces by 34 artists spanning the last 30 years. I was both humbled and thrilled to see five of my pieces in the exhibit including this Fable Vessel from 1997.
The big question at the symposium was "Where does polymer go from here?"  There were many ideas, but no clear answers quite yet.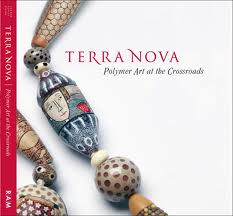 If you can't get to Racine, Wisconsin before the show ends in February, go online to the RAM bookstore to buy the catalog. (It will not be available any other way.) It is simply gorgeous.
The eight boundary breaking studios are covered in depth and many other artists are included in the portfolio section at the end. In addition to the artwork, the first 36 pages are devoted to scholarly, historical and curatorial essays.  Order yours now!