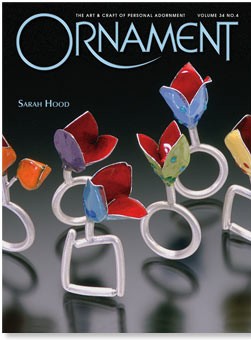 The latest issue of Ornament magazine has a wonderful article on the history of polymer clay as an artists' medium.  One of the most beautiful magazines on the stands, Ornament features articles on the art and craft of personal adornment.
Most of the magazines I get are fodder for collages but I never cut into my Ornaments.  Since I only moved my collection of color books up to the new studio, I had to find a place for twenty years of back issues. They are now in my bedroom waiting for room in the bookcases there.
A quick thank you to Polymer Art Archive for using my photo from the timeline in their post on Tuesday. A very nice birthday present!