As we arrived in Rome, my daughter asked what is the one thing you hope to do while in Italy? I replied, " See the real Pompeian Red."
I have longed to see the ruins of Pompeii and Herculaneum since my first architectural history course. The reason had nothing to do with architecture or with history. The reason had to do with color. I was smitten with Pompeian Red.
Pompeian Red was discovered on the fresco walls when the ruins were uncovered. Still bright red after thousands of years buried under the ash of Mount Vesuvius, the color showed up in the background of painting after painting adorning the interior rooms of many of the buildings.  I have seen many photos of these paintings and always wondered, "What does Pompeian Red really look like?"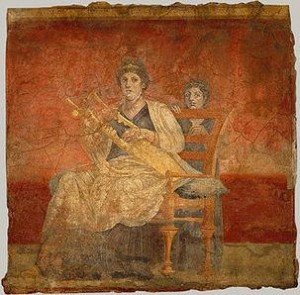 The chemistry of the red pigment used in these gorgeous paintings was analyzed in 2004.  "Basically, the ancient Romans simply added some bigger grains to the finely processed cinnabar powder, made of grains measuring about 2-3 microns. The result was a glittering surface that did not loose its saturated red tone."
We went to the ruins, and then I went by myself to the Archeological Museum in Naples where most of the walls have been moved to. I sat myself down in the middle of three walls from Pompeii – and came close to tears.  What a beautiful color!
After a few minutes of contemplation and gratitude for being there, my color analyst kicked in. Exactly what color of red is it? I was reminded of Chinese Red. But with a little more depth of shade. And a touch, just a touch, of mud.  I would call it a deep, rich, luminous, vermilion red.  How could I come close to it in polymer?  Maybe by starting with cadmium red? At that point I wished I had some color swatches and then I thought, "Maggie! Forget trying to figure out how to match the color! Just enjoy finally being here."
And I did.