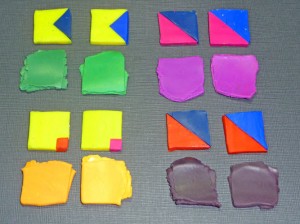 Here is the first step in making the tasting tiles using Kato Clay.  I used Yellow, Blue, Turquoise, Magenta and Red.
Greens:  The first mixture of Yellow with Blue came out slightly muted. That is due to the Blue clay's bias toward magenta. The Yellow with Turquoise  came out very clear.
Oranges: The mixtures of the Yellow/Magenta and the Yellow/Red both came out clear. That's because there is no blue bias in either the Magenta or the Red.  You will often hear that magenta is a red with a blue bias. That is not true. Magenta is a true primary. Red is actually a magenta with yellow in it.
Purples:  The first mix is with Kato Blue. Kato Blue has a magenta bias, so it mixes with Magenta to make a clear purple. Kato Turquoise clay is a true primary blue. It doesn't have much of a bias to either yellow or to magneta so when it is mixed with the Magenta , the Turquoise also makes a clear purple. But look at the mixtures with Kato Red! They are both brown instead of purple. That's due to the yellow in the Red clay.  Remember that yellow is the third primary.  It combines with the other two primaries to make mud. If you need a clear purple in Kato clay, be sure to use Magenta as your primary, or buy the package Purple.
Today is the International Day of Climate Action and I am off to the rally in downtown Portland.  When I get back I will use the Kato Tasting Tiles that are now in the oven to show you how to find the best primaries for mixing the colors in your collage.