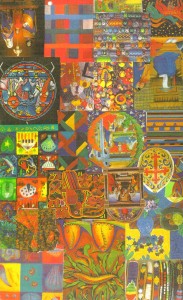 I began making color collages when I moved into my first out-of-the-house studio in 1996.  I finally had lots of wall space and decided to pull out the basket with postcards, greeting cards, clippings, art catalogs, and memorabilia that I had saved over the years and get them up on the wall.
At first they went up willy-nilly, but when I stepped back I realized I had to take them all down and sort them into groups according to color.
This is the first collage of the five that I sorted that day and I've been making color collages ever since.  Lindly and I have made hundreds of collages over the years. Have fun making yours!
Weekend Extra Exercises
Make lots of collages!
TIPS
The more clippings you have the easier it will be to see " color themes" in the clippings that you like.
Remember that you are not designing a color scheme – you are documenting one.
Work quickly and intentionally.
If you are struggling to see a "theme" – pick one of the clippings you like the most, and then audition the rest of the clippings. Do they feel the same? Do they have the same colors?  Do they "hang with" that clipping.
Don't settle for "it almost goes." Find more magazines and look for clippings that really do have similar colors and are similar in feeling.
Try to divorce your preferences for texture and imagery from your preferences for colors. Its hard to do – you may have to resort to the old trick of turning the clippings upside down.
FAQ's
1.  Do I have to cover the whole board? Yes – the background will shift the colors so cover it all up.
2. Can I use just part of a clipping? Sure, feel free to cut away anything that is not working for your collage.
3. Does it matter what size the clippings are? No – you can use a full page from a magazine if that is what you are responding to – or you can use just a corner of a small photo if that works well with your collage.
Here's the first (and maybe the last!) video made in my studio. You can just make out the first set of five collages in the background.  It was done in one take and its a little bit dark. I was hoping to edit it and brighten it up a bit but I'm afraid the video editing software is currently way beyond my skills! With any luck I will be able to get my nephew, Joey, to come down to Portland from Seattle sometime soon and give me a tutorial.  There are few parts that make me cringe (who picked that music??) but I want to share it with you anyway. One warning – color collaging can be addictive!