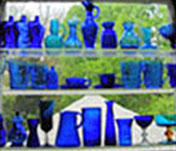 My mother's favorite color is blue. She collects blue glass bottles and displays them in the windows of our house in Ohio. She prefers cobalt blue but all varieties of blue make it onto the shelves.
Over the years many of the bottles were accidently broken – one time a whole window's worth came tumbling down! – but Mom was always very philosophical about the loss. I'm sure she feels some sadness over the breakage but she always quickly forgives the breaker.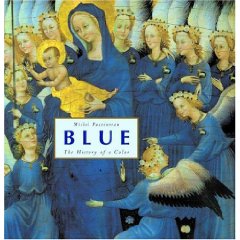 I just spent a lovely week with my mom and dad and I want to thank my mom for teaching me to accept everything and forgive everything and thank my very gregarious dad for being so curious about everything.
Blue: A History of a Color by Michel Paotoureau is a beautiful book. Since I am not buying anything new this year, I bought it used for a reasonable amount on Amazon.  Gorgeous!