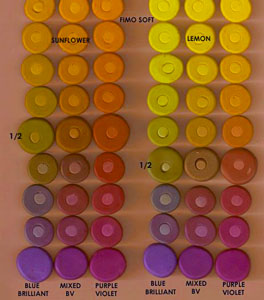 Color scales are step-by-step mixes showing the range of colors that you get by mixing two colors in different proportions.
You can use any two colors to make scales. The first one I did was black to white, then I tried red to yellow, yellow to blue and blue back to yellow to get the colors on the outside of a color wheel.
By running the scales from secondary to secondary, or from complement to complement, you can also see the beautiful colors inside the color wheel. There's no end to the variations possible.
Polymer clay is the perfect medium for color scales. It is not messy, it is accurately measurable, you can hold the color in your hand while watching each new color emerge, and the resulting beads or "buttons" can be strung for ready reference.
As a freshman design major, I took a class that used Josef Albers Interaction of Color. In Chapter XX he describes the Weber-Fechner Law which states that "The visual perception of an arithmetric progression depends upon a physical geometric progression."
Huh?
What that means is that instead of a scale that looks like this: 

It's better to use a scale that looks like this:

 
Based on this concept, I developed an easy method of making color scales that I have been using, and teaching, for about 15 years.
A few weekends ago, my nephew Joey came down from Seattle to help me make a video on Color Scales. A freshman in college, he's been making short movies for YouTube for the last few years. We had lots of fun with it and he did a great job with the editing. The video is just under 7 minutes long. Thanks Joey!
I wanted to use music from Pink Martini; a local, internationally known band. I asked permission and was referred to Warner/Chappel music. (Yes – the big Warner Co.) Permission is still pending, so Joey cut the music down to the allowable 30 seconds. In the silent parts just imagine piano music.
Smashing Color Exercise – Looking for Gray
1. Print out the Color Scales for Polymer Clay handout.
2. Start by mixing a "cool" yellow to a purple clay out of the package as shown in the video. What colors did you get? Did you "hit" a gray along the way?
3. Then try an ultramarine blue to yellow. What colors did you get? Did you "hit" a gray along the way? 
4. Mix the blue and purple together and mix that color to yellow. What colors did you get? Did you "hit" a gray along the way?
5. Try the three scales again with a "warm" yellow.
The results using Fimo Soft are shown in the photo at the top of the post. Have fun!