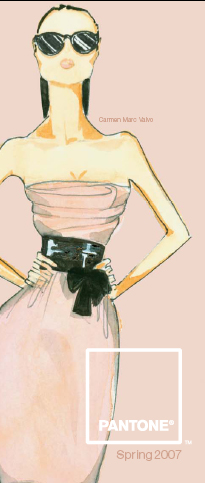 Thanks to everyone who let me know that the January 22 issue of the New Yorker had an article about the color industry. "Made in the Shade", by Eric Konigsberg, tells the story of color consultant Leslie Harrington and gives an inside look at the color business.
For a workhop a few years ago I requested samples of color forecasts from the big three – Pantone, Color Marketing Group and the Color Association of the United States.  All three sent materials and we had lots of fun comparing them. The themes and color names were very evocative and often over the top – good for a few laughs.
I have mixed feelings about the color forecasts. I do think they are self-fullfilling prophesies. And I don't think many colors actually deserve the title of "trendy."
Certainly the wasabi green described in the article is a true trend color. Very popular for at least the last six years it will be forever connected to the start of the new millenium.
Would it help your work if you had access to the forecasts?Maybe as a jumping off point. But we don't really need the two years notice given the manufacturers. We can change our colors as often as we want.
The Pantone forecast for spring 2007 (click where it says Fall 2006) is available for download – it has already been out for two years so you can see it for free. New forecasts for two years from now cost big bucks.
The Color Marketing Group's conference is coming up. Go to the box on the right side of their information page to see a fun video featuring Magenta.
Complementary Tints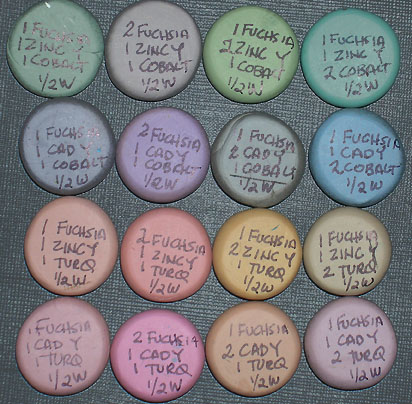 Test Mixing Exercise: These are good colors that would work well with the spring forecast. They are the muds from last week's tutorial mixed half and half with white.
Try it. You'll be surprised by how much color is in the muds. They are beautiful earth pastels.