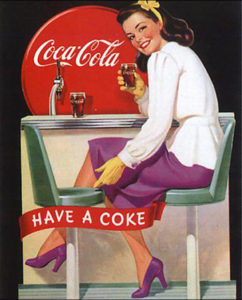 "If one says "Red" (the name of the color) and there are 50 people listening, it can be expected that there will be 50 reds in their minds. And one can be sure that all these reds will be very different."
This famous quote from the first chapter of Josef Albers book, Interaction of Color, is followed by the paragraph, "Even when a certain color is specified which all the listeners have seen innumerable times – such as the red of the Coca-Cola signs which is the same red all over the country – they will still think of many different reds."
Albers taught his color course at Yale from 1950 until he retired in 1958. As far as I know the color of Coca-Cola red has not changed since then. It is still one of the most widely recognized logos in the world.
This is my challenge for you today – think of a Coca-Cola can. Do not go out and buy one – just think of one.  Then mix at least three different reds that you believe come close to Coca-Cola red. Set aside the red you think most closely matches the red of a Coca-Cola can. Then, and only then!, go get a can of Coke.  How good, or bad, is your color recollection?
In his classes, Albers asked students to select the color from a collection of paper swatches. Invariably students chose many different reds. He makes two important points from this exercise.
"First, it is hard, if not impossible, to remember distinct colors."
We all think we have better visual memory than we actually do. In my workshops I tell students working on collages to take them with them when they go to the table with all the magazine clippings. Just three seconds and three feet away can make you forget the color you are looking for.
"Second, the nomenclature of color is most inadequate."
That's an understatement. The lack of standard color names is one of my pet peeves – but not the subject of today's post.
Teaching Color
The next to the last chapter of Albers book is titled "On teaching color." Albers says, "In the end, teaching is a matter not of method but of heart. Therefore the most decisive factor is the teacher's personality."
Albers book was published in 1963, five years after he retired from teaching. It has been used as a text for over fifty years to teach color courses. The first courses were taught by students who took his classes and then became teachers at colleges around the country. By the time I took the course in the 70's there was no direct connection to Albers. Today, unfortunately for many students, the exercises are taught almost by rote.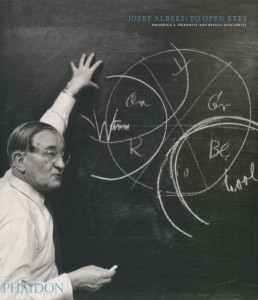 I'm reading "Josef Albers: To Open Eyes" by Frederick A. Horowitz and Brenda Danilowitz. Horowitz was a student of Albers at Yale and his first-hand anecdotes about the excitement and energy in the original color classes make Albers come alive.
Reading Horowitz's book has given me a new appreciation for Albers teaching style and for his curriculum.  The whole point of the exercises was to enjoy learning more about how colors interact and in the process to open your eyes to the miracle of color.  I will try to bring a little bit of Albers' enthusiasm to the process!