A Smashing Color class gives you the chance to see, use, and understand color in a whole new way. After thirty years as an artist and teacher of color, my hands-on approach is more about guiding color explorations than teaching color theory.  I enjoy the challenge of distilling the complexity of color into "useful bits of information"  and I treasure the opportunity to share my passion for how color enriches our lives.
Smashing Color Basics for all Artists 
Half Day Intro Classes offered at VIA Artistica Teaching Studio in Portland, Oregon.
See the VIA Artistica Calendar for details.
Level One – Building a Strong Foundation
Level Two – Color and Contrast
Level Three – Learning from Nature
Smashing Color Polymer Classes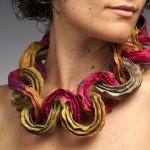 Two Day Workshop
Smashing Color Plus: Rose Collar
Note: This workshop includes Smashing Color Basics: Level One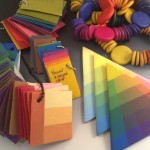 Four Day Master Class
Smashing Color: The Art of Color Mixing
Outside the Portland area: Contact me if you are interested in hosting a class for your guild or artist group.
Students: Please let me know ahead of time if you have any health issues – for example, hearing/sight impairments or a physical disability that requires the use of a motorized pasta machine – so that arrangements can be made to best accommodate your needs during the workshop.
________________________________________________
Videos: Making Color Scales and Color Collages
Tutorial:  Watercolor Technique for Polymer