Smashing Color Workshops
A Smashing Color class gives you the chance to see, use, and understand color in a whole new way. After thirty years as an artist and teacher of color, my hands-on approach is more about guiding color explorations than teaching color theory.  I enjoy the challenge of distilling the complexity of color into "useful bits of information" for artists working in all media.

Half Day Intro Classes offered at VIA Artistica Teaching Studio in Portland, Oregon.
See the VIA Artistica Calendar for details.
Level One – Building a Strong Foundation
Level Two – Color and Contrast
Level Three – Learning from Nature
Polymer Workshops
Maggie discovered her signature ColorWash technique (aka the Watercolor technique) over twenty years ago while playing with applique beads. All ColorWash workshops include Smashing Color principles as part of the class.
Flip Pendants: Exploring the ColorWash Technique

The ColorWash technique brings out the richness of color in polymer by washing thin sheets over a white base.  Explore the beauty of color washing by making Stone Beads and a Fishtail Pendant using a simple variation of the technique inspired by torn paper collage.
Note: This two-day workshop is appropriate for all levels of polymer artists including beginners.
More Info
The Nature of Mark Making: Instinctive Doodling on Polymer Clay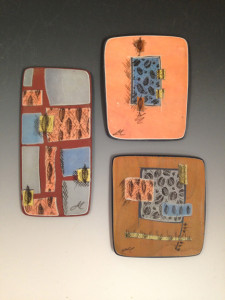 This two-day workshop combines the basics of the ColorWash technique with an exploration of the nature of mark making.
Note: Basic polymer experience required.

More Info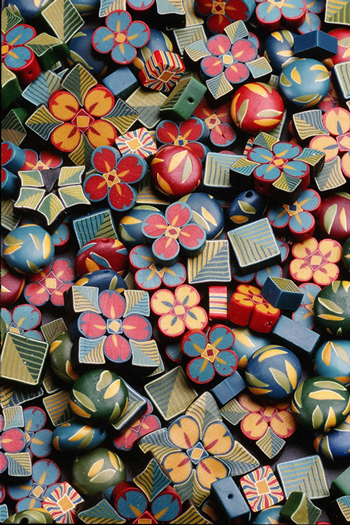 Millefiore Magic: Exploring Color Choices
Choosing the right colors for your canes is critical since their relationship changes as the cane is reduced. Can you predict how your colors will shift? 

Learn how to see color in a whole new light as you focus on value contrast – the magic key to making your designs work at a small scale.
Outside the Portland area: Contact me if you are interested in hosting a class for your guild or artist group.
Students: Please let me know ahead of time if you have any health issues – for example, hearing/sight impairments or a physical disability that requires the use of a motorized pasta machine – so that arrangements can be made to best accommodate your needs during the workshop.
________________________________________________
Additional Resources
Videos: Making Color Scales and Color Collages
Tutorial:  Watercolor Technique for Polymer