Color Inspirations Week with Lindly October 27-November 1, 2020
with Lindly Haunani
Six-day workshop with all the materials included.
Description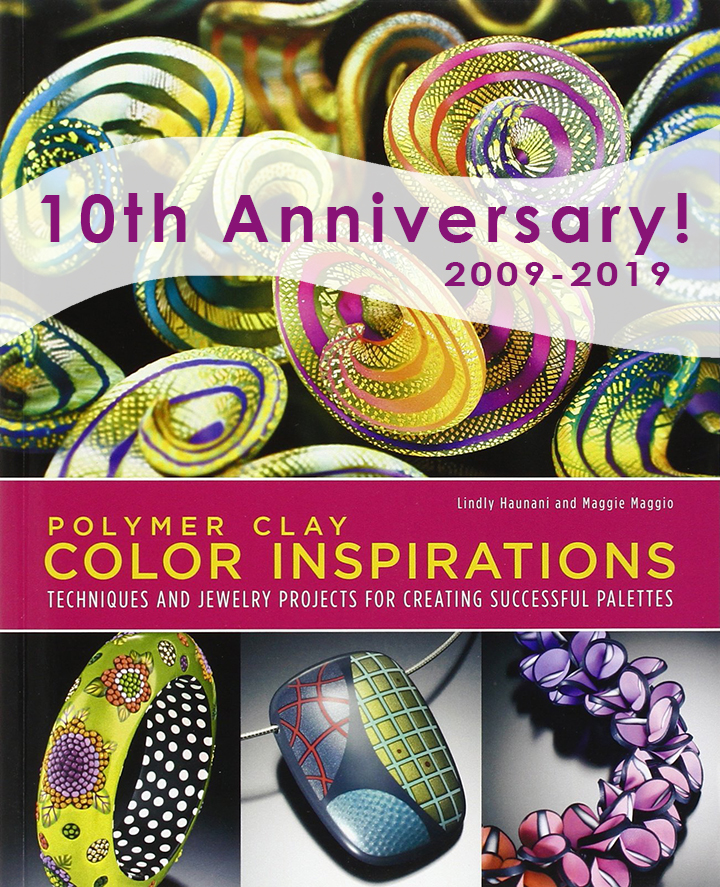 Open your eyes to all the many nuances of color around us and learn to see color in a new light! Join Maggie Maggio & Lindly Haunani for Color Week 2020! After last year's celebration of the the tenth anniversary of the publication of their collaborative book, Polymer Clay Color Inspirations, Maggie and Lindly will be teaching their colorful and inspirational Master Class October 27-November 1, 2020 in Albuquerque, New Mexico.
During the six-days of the workshop Maggie and Lindly will share their insights gleaned from decades of teaching color-centric workshops around the world. The class will include: step by step demonstrations, group discussions, individualized consultations, and open studio.
Over the course of the class you will:
? Make an intuitive color collage reflective of your personal color preferences.
? Learn strategies for mixing for color harmony and how to orchestrate value and saturation contrasts.
? Explore combining colors into expressive color schemes.
? Select, design and mix a color palette that makes your heart sing.
Maggie and Lindly will each demonstrate a signature technique that will inspire you to be more adventurous and intentional with your color choices Experience Maggie's color wash technique as a way to hand sculpt color. Explore Lindly's textile inspired patterns as a path to exploring combining colors. They will guide you while you learn how to audition possible color combinations, balance different scales and proportions, include the unexpected color (or not?) as you practice creating successful color compositions.
You will be encouraged to complete a project during this workshop: your choice = a series of brooches or a covered box or frame (specific details will be included in the class supply list). By the end of the week you will have a great deal of practical experience working with color as well as several useful studio tools you can take home for reference.
The week will also include some time for gentle critiquing, group brainstorming and mentoring by Maggie and Lindly as you explore ways to customize and personalize your color choices. Come with an open mind, your two magical hands and your sense of humor. Leave with an enhanced understanding of the unlimited possibilities when working confidently with color.
Polyform Products will be generously providing the Premo polymer clay that you will need to complete the exercises and projects during this workshop.
Skill Level: Confident beginner to advanced artist. This is not an introductory class and participants are expected to know the basics of handling polymer and making Skinner blends.
Materials List: Will be sent upon registration.
Homework: Suggestions for optional preparatory homework will be sent prior to the class to maximize your workshop experience.
Class Times: Doors will open at 8:30 AM. Class will start at 9:00 AM Tuesday through Sunday. Tuesday, Wednesday, Friday and Saturday classes will end at 5:30 PM. Thursday and Sunday classes will end at 1:00. Lunch: We will break for one hour for lunch. Lunch is on your own and there are many restaurants adjacent to the hotel.
Registration Info: Register early, as class size is limited to allow for lots of individual attention. Workshop will be held at the Quality Suites conference room – 3 rd floor 1501 Gibson Boulevard, Albuquerque
Workshop Fee:  $985.00
To secure your spot a 50% deposit is required as soon as you receive confirmation that space is available. Balance of payment must be received by August 31, 2020 to allow lead time for securing good flight rates.
Payment by check should be made out to Annie Hooten and sent to Annie Hooten 1720 Ross Place SE Albuquerque, NM 87108.
Please contact Annie if you prefer to pay through PayPal.
Cancellation Policy: No cancellations will be accepted after August 31 unless you are able to personally find a replacement to take your spot or there is a waiting list with someone available to take your place. All cancellations will incur a $50 administration fee.
Contact: Annie Hooten
hootenannie4@aol.com
Phone (505) 228-8703
Notes: Hotel reservations to be made by attendees and are not included in the price of the workshop. If you stay at the Quality Suites there is a free shuttle from the airport and breakfast is included.  Best prices are obtained by booking online. HOTEL LINK
Several restaurants are located within walking distance of the hotel. There will be two group dinners at nearby restaurants on Tuesday evening, October 27 and Friday evening, October 30 and family and friends are welcome to join. (Not included in the price of the workshop.) Transportation will be provided by local attendees.