Color Inspirations Week – Portland, Oregon July 8-13, 2019
$825.00
with Lindly Haunani
Six-day workshop with all the materials included.
Join Lindly and I as we celebrate the 10th Anniversary of our book!
Description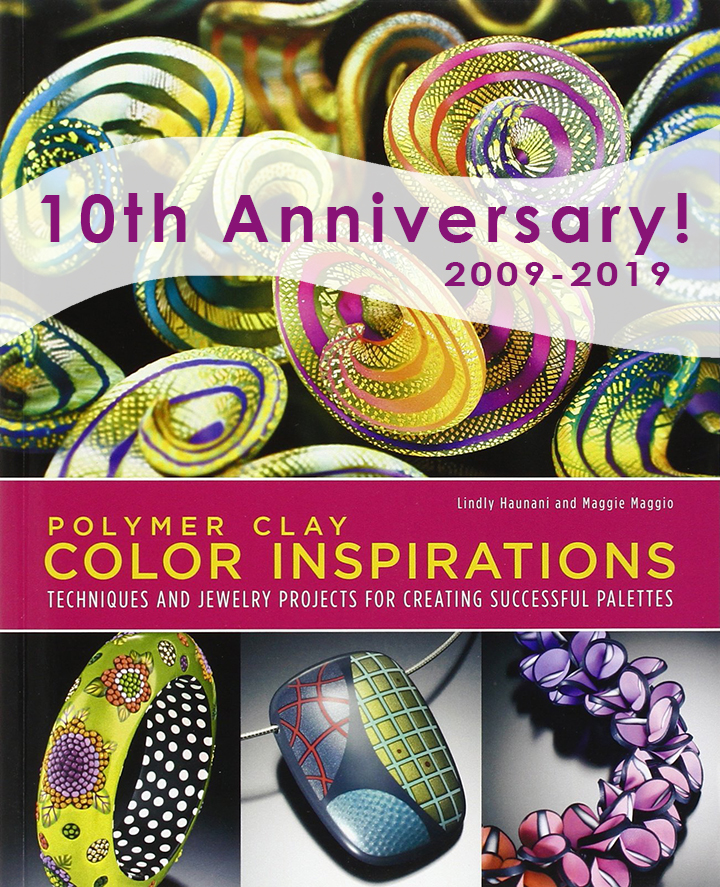 Join Maggie Maggio and Lindly Haunani, for a very special, colorful, inspirational six-day studio workshop in Portland, Oregon. For the first time in over a decade they will be team teaching together, in honor of the tenth anniversary of the publication of their collaborative book; Polymer Clay Color Inspirations.
Have fun while learning how to select, design and mix a color palette that makes your heart sing. This week will include: step by step demonstrations, group discussions, individualized consultations, open studio time and several short field trips to enjoy the sights, sounds and tastes of Portland, Oregon.
Maggie and Lindly will share their insights gleaned from years of teaching color-centric workshops. The week will begin with you making an intuitive color collage reflective of your personal color preferences. Strategies for mixing for color harmony, orchestrating value and saturation contrasts and designing color schemes will be presented. Make several useful studio tools you can take home for reference.
Experience the joy of combining a series color co-coordinated veneers into collaged compositions. Maggie will guide you while you make a series of veneers based on her signature Color washing techniques. Lindly will then share a series of textile inspired pattern veneer. Once you have your library of polymer veneers in place to choose from; you will learn how audition possible color combinations, balance different scales and proportions, include the unexpected color (or not?) while creating a successful color composition. You will be encouraged to complete a project during this workshop: your choice = a series of brooches or a covered box or frame (specific details will be included in the class supply list).
Come with an open mind, your two magical hands and your sense of humor. Leave with an enhanced understanding of the possibilities when working confidently with color.
Register early, as class size is limited to allow for lots of individual attention.
Questions: Lindlyh@aol.com or MaggieMaggio@gmail.com
All Materials Provided: Polyform Products will generously be providing the Premo polymer you will need to complete the exercises and projects during this workshop.
Skill Level: Confident beginner –to advanced artist. Note: This is not an introductory workshop; participants are expected to be familiar with basic polymer skills including how to make a Skinner blend
Location:    Taborspace,  5441 SE Belmont Avenue, Portland, Oregon
Hours:  Doors open at 9.  Class runs 9:30 – 5:30 every day.