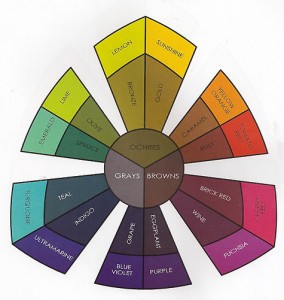 Forget the rules. Throw out the color wheel. Come play with color just for the fun of it!
Most color theory is simplistic, misleading, confusing or just plain wrong. This introduction to Smashing Color theories will challenge you to rethink everything you thought you knew about both the science and art of color!
Learn to see color in a new way as you study the properties of color, identify your unique preferences for color temperature, contrast and composition, and explore the many worlds of color using Maggie's Instinctive Mixing Map to guide the way.
Train your eye to see the nuances in colors by sorting colors and making a color collage, then create a project palette in your medium inspired by your collage. Have fun along your journey as you pivot your core colors in different compass directions to fine tune the character of each color in your palette.
Build up your color foundation with basic information about the chemistry, optics and psychology of color. Leave with a new understanding of the complexity of color and an appreciation for where each color lives in the inconnected system that is the color world.
Note:  This is the Level One workshop for the Smashing Color series. It is designed to be useful, and fun, for all artists whether or not they have studied color in the past.
- – - – - – - – - – - -
Contact Maggie for more information about scheduling and costs.