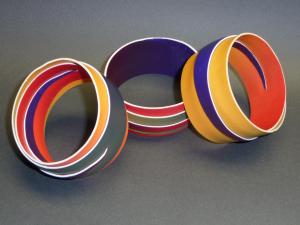 Color speaks for you. By considering the emotions you would like to evoke, you can be more intentional about the colors you choose and take your work to a whole new level.
Bring an image that reflects a specific mood you are interested in expressing.  Learn how to mix a collection of colors inspired by the image and then practice communicating with color by customizing a project palette.
After fine tuning the project palette, you will use Skinner blends to make bangles that focus on expressing mood and emotion. The bangle form is intentionally kept very simple to allow time to explore using color to create wearable poetry.
Kit Fee : $15 kit fee includes colored clay, handouts and group supplies.
Materials to Bring:
Premo Polymer Clay: White – 6 oz. minimum.
In addition to pasta machine, work surface, and blade, students should bring one or more magazine clippings or photos of your favorite place.
Level:  No polymer clay experience required. Contact Maggie if you have questions.
Class Length: One day. Seven hours of instruction.
Instructor Fee: $75/student plus travel and lodging. Home stay is fine. Note that the total cost is dependent on site expenses and is determined by the hosting organization.
Class Size: Minimum – 8 students. Maximum -16 students.
Classroom Requirements:  Dedicated convection oven(s), whiteboard or flip chart with markers.  Additional chair for each student if possible