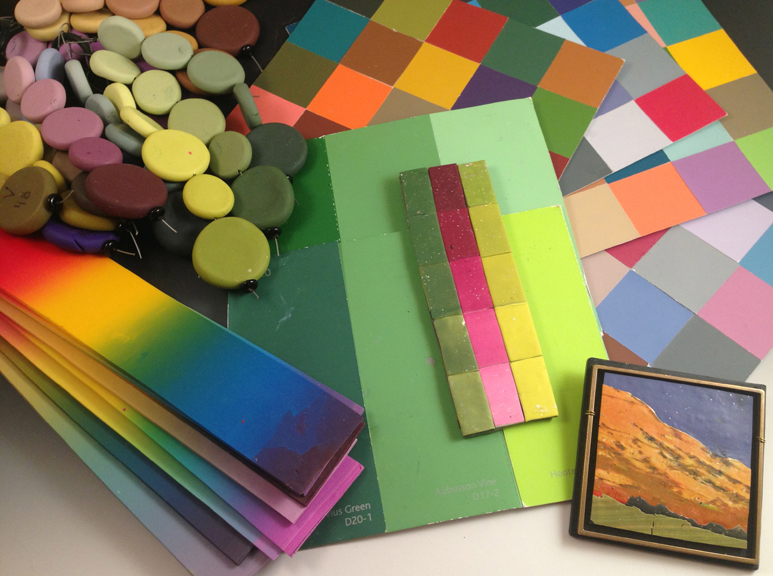 Smashing Color Nature-Lover: Learning from Landscapes
Smashing Color Nature-Lover:
Learning from Landcapes
The colors of each time of day, each season, and each place in the world all evoke associations that speak softly or shout for attention. Learning the natural language of color will help take your work to a whole new level.
Nature gives numerous clues about how to add luster, luminosity, iridescence and three dimensional effects to your work just by playing with color values and saturations. Learning how to use natural color flows will add harmony to your pieces  – or you can break nature's rules and create a feeling of dissonance if that is the intention behind your color choices.
This hands-on workshop includes exercises on the relationship between color and light, the concept of color flow, and the dynamics of color temperature and contrast.
Come explores many ways to add meaning and depth to your work by using colors inspired by nature!
Materials Provided: Polymer Clay, Watercolors, Acrylic Paint, LEDs
Students Bring: Favorite art supplies, Tablet or I-Pad
Class Length: Two Days.  Fourteen hours of instruction.
Instructor Fee: $195/student plus travel and lodging. Home stay is fine. The total cost is dependent on site expenses and is determined by the hosting organization.

Polymer Guilds: Contact Maggie for group/guild pricing. Note that this workshop can be combined with a one-day add-on  workshop for polymer clay artists who want to apply what they have learned.
Class Size: Minimum – 8 students. Maximum – 24 students.
Classroom Requirements: Demo table and chair. Dedicated convection oven, whiteboard or flip chart with markers.  Additional chair for each student at demo table if possible.