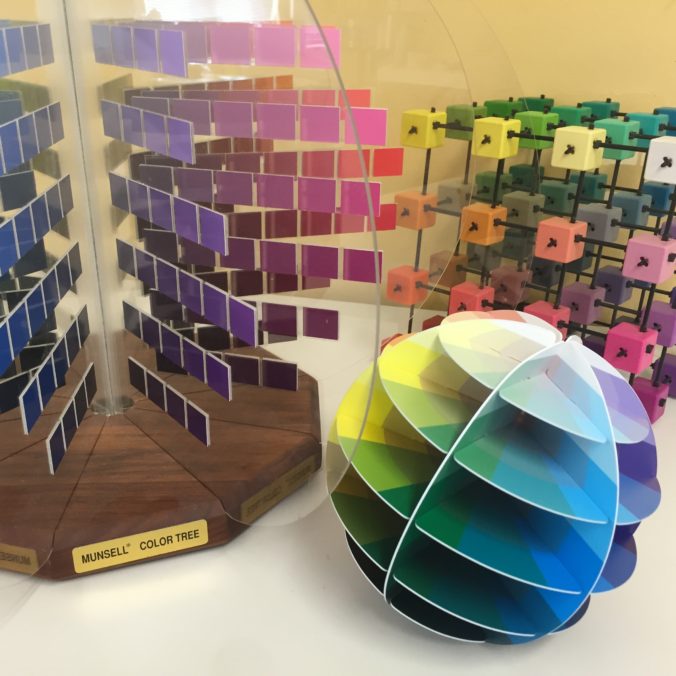 Smashing Color Globe-Trotter: Discovering the Many Worlds of Color
Smashing Color Globe-Trotter:
Discovering the Many Worlds of Color
This fun and engaging two-day workshop is jam-packed with adventurers in the many worlds of color. Step by step Maggie will guide you through the latest discoveries in the art and science of color with a series of experiential, hands-on explorations that intentionally combine your personal sense of color with a strong foundation in the reality of how color works.
Color is an integrated system of both light and pigment. With some practice, it's not too hard to learn how to travel comfortably between these two worlds.
Forget the rules. Come have fun exploring the colors of light on the computer and with LED's, and the colors of pigment in many different forms of traditional art media.
We will start by going back to kindergarten and play with finger paints and crayons using Cyan, Magenta and Yellow instead of the classic Red, Yellow and Blue primary colors.
After experimenting with modern color mixing in polymer clay, watercolors, and acrylic paint, we will go deeper into the world of color exploration by looking through a prism, mixing color in light, and drawing on the computer.
The adventures continue with explorations of your personal sense of color. We will make a color collage, customize your palette, and learn the language of color.
You will leave with a better understanding of the complexity of color and many new tools continuing your explorations of the interconnected system of light and pigment that is at the heart of 21st Century Color.
Materials Provided: Polymer Clay, Watercolors, Acrylic Paint, LEDs
Students Bring: Favorite art supplies, Tablet or I-Pad
Class Length: Two Days.  Fourteen hours of instruction.
Instructor Fee: $195/student plus travel and lodging. Home stay is fine. The total cost is dependent on site expenses and is determined by the hosting organization.

Polymer Guilds: Contact Maggie for group/guild pricing. Note that this workshop can be combined with a one-day add-on  workshop for polymer clay artists who want to apply what they have learned.
Class Size: Minimum – 8 students. Maximum – 24 students.
Classroom Requirements: Demo table and chair. Dedicated convection oven, whiteboard or flip chart with markers.  Additional chair for each student at demo table if possible.