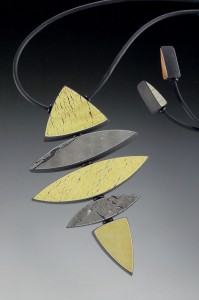 Learn how to bring out the richness of color in polymer clay by washing thin sheets over a white base. Start by making a color collage to inspire your palette for the workshop and then practice instinctively mixing colors using the Maggio Mixing Map as a guide.
After mixing your project colors, Maggie will demonstrate the basics of her Watercolor Technique and show you how to make a sampler set of simple flat beads that will allow you to play with color and shape.
After making and baking your own beautiful collection of flat color-washed beads in many shapes and sizes you will select five beads to combine into a fun flip pendant which we will finish in class. You can then take the rest of your beads home to make jewelry of your own design.
Kit Fee : $15 kit fee includes colored clay, handouts, stringing materials and group supplies.
Materials to Bring: Polymer clay – minimum of 6 oz of dark scrap or black clay and 4 oz of white clay.  Colored clay provided.
Level: Basic polymer clay experience required. Contact Maggie if you have questions.
Class Length: One Day.  Seven hours of instruction.
Class Size: Minimum – 8 students. Maximum – 16 students.
Classroom Requirements: Dedicated convection oven(s), whiteboard or flip chart with markers.  Additional chair for each student if possible.