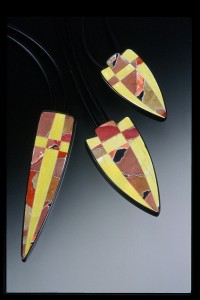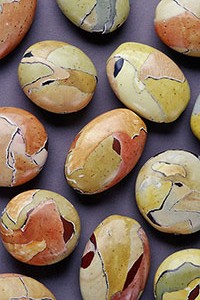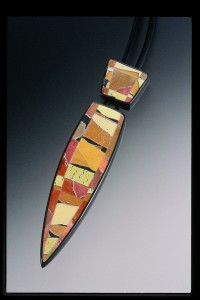 Learn the basics of the Watercolor technique while making fabulous stone sized beads and shield shaped pendants using the torn paper technique.  Learn how to customize your color choices and troubleshoot f0r gorgeous color combinations.  In this workshop you will:
• Learn how to challenge traditional color theory.
• Explore new ideas about mixing and composing with color.
• Learn how to successfully mix any color you want.
• Learn how to use Maggie's Watercolor technique to explore color.
• Analyze your personal preferences for color, contrast and composition.
• Play with collages, polymer clay, and paint swatches.
• End up with a few focal beads and a pendant to string into projects when you get home.
On the first day you will make a color collage, mix a personal palette, and learn the basics of the Watercolor technique while making torn paper beads.  On the second day you will  then use your personalized Watercolor swatches to practice combining colors in ways that "pop" and select one design to make into a pendant that you can finish at home.
Kit Fee : $15 kit fee includes colored clay, handouts and group supplies.
Materials to Bring: Polymer clay – minimum of 4 oz of dark scrap or black clay. In addition to pasta machine, work surface and blade, students should bring scissors, glue stick,  and a large Ziploc bag with 100+ randomly selected images clipped from magazines with the white and text trimmed away – note that clippings will be shared so it doesn't matter whether or not you like the color, just clip, clip, clip! Students should also bring exactly 30 large single color paint swatches in colors you love. (Home Depot or Lowe's)
Level: Basic polymer clay experience required. Contact Maggie if you have questions.
Class Length: Two Days. Fourteen hours of instruction.
Instructor Fee: $125/student plus travel and lodging. Home stay is fine. Note that the total cost is dependent on site expenses and is determined by the hosting organization.
Class Size: Minimum – 8 students. Maximum – 16 students.
Classroom Requirements: Dedicated convection oven(s), whiteboard or flip chart with markers.  Additional chair for each student if possible.