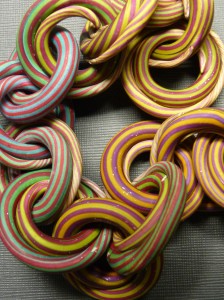 Mixing gorgeous colors is the easy part – putting them together is hard! Why do some colors blend and some not? Why do some colors pop and others settle into the background? What causes a color to shift in appearance?  As you change one color, how does it effect other colors?
After mixing a project palette inspired by your clippings, you will to learn how to audition colors by testing combinations in a contrast table and then in a series of small striped canes. Explore the creative process of moving colors around in a variety of placement options until the color scheme comes alive.
Use Skinner blends and the basic Watercolor techniques to make a collection of thinly striped split rings to mix and match in a colorful bracelet. Bring one or more magazine clippings in a color scheme that your are interested in exploring.
- – - – - – - – - – - – - – -
Kit Fee : $15 kit fee includes colored clay, handouts and group supplies.
Materials to Bring:
Premo Polymer Clay – White – 4 oz, Black 2 oz.
In addition to pasta machine, work surface and blade, students should bring one or more magazine clippings in color combinations that you want to explore.
Level: Basic polymer clay experience required. Contact Maggie if you have questions.
Instructor Fee: $75/student plus travel and lodging. Home stay is fine. Note that the total cost is dependent on site expenses and is determined by the hosting organization.
Class Size: Minimum – 8 students. Maximum – 16 students.
Classroom Requirements:  Dedicated convection oven(s), whiteboard or flip chart with markers, extra chair for each student if possible.