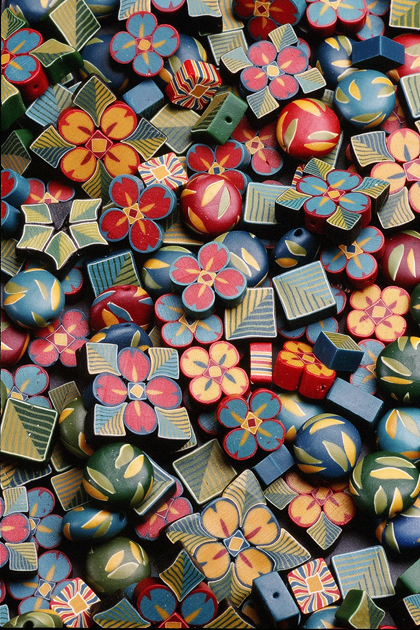 Choosing the right colors for your canes is critical since their relationship changes as the cane is reduced. Can you predict how your colors will shift?
I will share some simple tips and tricks that will give you the information you need to avoid disappointing surprises and help you design and make beautiful canes.
Learn how to see color in a whole new light as you focus on value contrast – the magic key to making your designs work at a small scale.
Practice auditioning your colors by testing combinations and explore the creative process of moving colors around in a variety of placement options until the colors come alive.
Bring one or more magazine clippings in a color scheme that your are interested in exploring. At the end of the workshop you will have a color coordinated collection of simple leaf and flower canes to take home and use in future projects.
- – - – - – - – - – - – - – -
Kit Fee : $15 kit fee includes colored clay, handouts and group supplies.
Materials to Bring:
Premo Polymer Clay – White – 4 oz, Black 2 oz.
In addition to pasta machine, work surface and blade, students should bring one or more magazine clippings in color combinations that you want to explore.
Level: Basic polymer clay experience required. Contact Maggie if you have questions.
Class Length: Two days. Fourteen hours of instruction.
Instructor Fee: $150/student plus travel and lodging. Home stay is fine. Note that the total cost is dependent on site expenses and is determined by the hosting organization.
Class Size: Minimum – 8 students. Maximum – 24 students.
Classroom Requirements:  Dedicated convection oven(s), whiteboard or flip chart with markers, extra chair for each student if possible.