"I'd like to get all the colors in the world into one painting."    Willem de Kooning
I grew up surrounded by paintings done by mom and dad. One of my favorites is a large canvas that still hangs over the mantle in the living room. It was painted by my dad in the late 60's. At some point in grade school, I can't remember exactly when, I asked him about it. That was the first time I heard the name Willem de Kooning.
I have to admit that I never really liked de Kooning's paintings, especially the later works. The colors seem so garish. The images so – well – ugly.  The paint seemingly applied haphazardly. The work apparently unfinished.
In art history classes I learned that de Kooning is considered one of the most important painters of the 20th century –  a leader in the Abstract Expressionist movement and a master of dynamic, gestural, action painting.  How could something I considered ugly be Art with a capital "A"?
During one of the forums at the opening of the Terra Nova show in October, the director of the Racine Art Museum, Bruce Pepich, asked the audience of polymer artists to consider the difference between "pretty" and "beautiful."
Pepich and Lena Vigna, the curator for the polymer show, suggested that something "ugly" could be beautiful but never pretty and dared us to stop making pretty things and start making beautiful things. I'm still absorbing this difficult idea.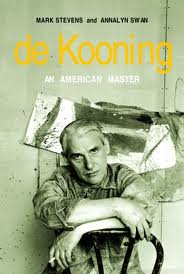 The recent major MoMA retrospective of de Kooning's work and the invitation from the Xanudu Gallery to join the virtual book group reading the 2005 Pulitzer prize winning biography de Kooning: An American Master by Mark Stevens and Annalyn Swan came at just the right time.
I'm going to read the book and spend some time going through the decades of de Kooning images on the MoMA site.  I'm hopeful that this will give me some insights into where his art came from, some idea of why he is one of my father's influences, and a better appreciation for the beauty of ugliness.
MoMA: de Kooning Retrospective
To register for the book webinar: Xanadu Virtual Book Group
The Art Story: The Life and Work of de Kooning